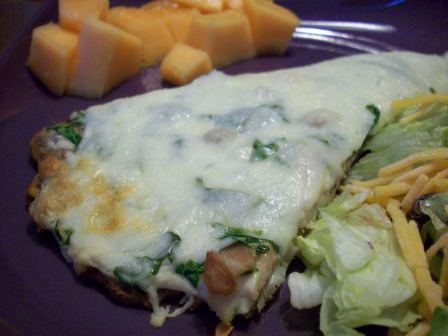 I love pizza, especially chicken spinach alfredo pizza.
When you are counting carbs and on a gluten-free diet, things like pizza can become a little scary. In order to reduce the carbs a bit, and add more fiber, I substituted in some Montina flour and a little Splenda in this pizza crust recipe from Roben Ryberg. It came out softer than the original version, but perhaps if I had left the crust in the oven a little longer before topping it would have been just right for me (I prefer my crust a little on the crispy side).
I prepared this on my gigantic pizza pan (I think it's 16 inches), and it yielded 12 large slices. The carb count for the crust was 13 grams per slice (14 grams total – 1 gram fiber). I really liked the taste of the crust with the Montina.
Pizza Crust, adapted from Roben Ryberg's You Won't Believe It's Gluten-Free!
3 egg whites
1/2 packet Splenda (I know, that's kinda hard to do. You could use 1 teaspoon of sugar instead)
2 tablespoons oil
1/3 cup apple juice
90 grams cornstarch
40 grams rice flour (you could probably use brown, I just didn't think of it in time)
45 grams Montina flour (pure, not the baking mix)
2 teaspoons baking powder
1 teaspoon bakin soda
1/2 teaspoon salt
3/4 teaspoon xanthan gum
1 tablespoon apple cider vinegar
Preheat the oven to 350°F. Lightly grease a baking sheet or pizza pan.
Place the egg whites in a medium-size bowl. Beat until very frothy, with big and little bubbles. Add the remaining ingredients. Mix well until the mixture thickens.
Drop the dough onto a greased cookie sheet. Spread to nearly the edges, with the dough a bit thicker at the sides. (The bottom will appear thin.) Moist fingertips help a lot with this process. Bake without any toppings for 8 to 9 minutes, until the bottom of the dough is lightly browned.
While your crust is in the oven, prepare your toppings. I used part of a jar of alfredo sauce, some leftover chicken from a Costco rotisserie, fresh spinach, and mozzarella. I cut the chicken into small pieces and the spinach into thin strips with a pair of scissors.
Raise the oven temp to 400°F.
Add your desired toppings. Bake until the crust is golden and any cheese is melted, approximately 5 minutes. The crust will be a little thinner after the final baking.