Merry Christmas and Happy New Year!! I know I'm a little late, but we have been very busy. We've booked up our Christmas vacation, leaving me very little time to work and no time to blog. In fact, I'm beginning this post while waiting for the Dallas World Aquarium to open.
On Christmas Eve, Grandpa built a fire in his fireplace for us. I'd brought along some marshmallows, chocolate, and some Kinnikinnick S'moreables. We had a lot of fun roasting marshmallows and making s'mores.
The Kinnikinnick graham-style crackers are different than "regular" graham crackers, thicker and more dense.  They have a good flavor and generally hold up well.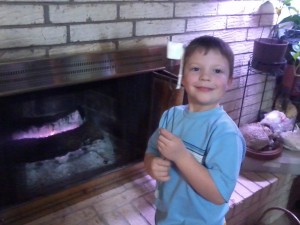 However, they don't work too well in the microwave, as the cookie softens up and gets kind of crumbly.  Even so, it's how I usually make them.   🙂
I decided the other day that Nutella and Marshmallow Creme would also make for good, easy S'mores.
Hopefully I can get up some good blog posts for you soon.  I am actually in Salt Lake City right now (it's been a week since I started this post on my phone), and will hopefully have some great gluten-free experiences to share with you!
Kinnikinnick sent me the S'moreables to taste and for possible review.