Back to School, Back to School…
Week one is complete for us. Â Braden is back to taking his lunches, and now that he is in middle school (eek!), he has decided that it is his responsibility to pack his own (and his brother's!) lunches. Â That's especially good news for me, since I have classes to teach at the University at 8am.
We made some bread last Sunday to help us get through the first week of school, since I had not been able to get in touch with the school nurse prior to the beginning of school. Â We have since found out from her that Braden may come and use her microwave at lunchtime, due to his food allergies. Â Lunches are much better when they consist of pizza or other tasty leftovers, at least in Braden's opinion. Â Carter, however, does not get access to a microwave (he has no known food allergies), and is super happy to take a sunbutter and jelly sandwich.
Coming up this weekend (September 8-9, 2012) is the annual Gluten-Free Allergen Free Expo in Dallas. Â I volunteered at this event last year and had a blast. Â You can meet and sample from so many different companies. Â I'll be there on Sunday, working the registration table, meeting new companies and hobnobbing with my favorite ones.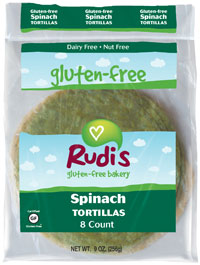 One of those companies is Rudi's Gluten-Free Bakery.  They will be there celebrating their new tortillas (they're tasty!).  If you haven't tried them, and even if you have, I suggest you find the Rudi's booth at the Expo and see what they're all about.  Rudi's gluten-free products are Certified Gluten-Free with the Gluten Free Certification Organization.  That means they undergo a lot of testing to make sure that their food is safe for us to eat.
Rudi's would like to celebrate with you and invite you to come on out to the Expo. Â They'd also like to give one of you a great prize pack with some Rudi's Gluten-Free Bakery tortillas, a Rudi's Gluten-Free t-shirt and magnet, a tortilla warmer, and a gluten-free cookbook!
You can enter this giveaway by leaving a comment on this post. Â Tell me something about back to school (or work) and dealing with gluten-free/food allergies, or what you love about or would like to see at an Expo.
This giveaway will close on September 14, 2012, at 9:00pm central.
I hope to see you at the Expo!