There is always something new around the bend.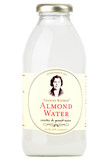 I recently received some samples of Victoria's Kitchen Almond Water from the company. Â The closest thing I've ever seen to this before was coconut water, which I only had a brief sip of once.
The Almond Water really is refreshing. Â It is pretty sweet, with 30 grams of sugar in one bottle (which is actually 2 servings), and a slightly subtle almond flavor. Â It doesn't taste like you're drinking nuts, but really more of a heavy hint of the almond.
Their website has an interesting sugar comparison of ready-to-drink beverages.
Thankfully, Victoria's is made with: water, pure cane sugar, natural almond flavor, citric acid and a lot of LOVE. Â Hooray for no corn syrup!
The bottle says "Let grandma show you how love tastes." Â It's a grandmother's recipe from France, "prepared with respect to the traditional technique of creating almond water."
It's definitely something new and different for me, but also enjoyable.
It supposedly makes good cocktails, if you're into that.