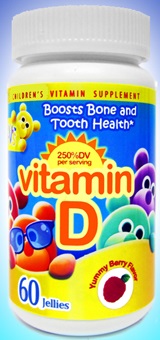 If you are looking for a non-gelatin jelly vitamin for your children, you might want to check out Yum V's Vitamins.  Not only do they have a multi-vitamin, they also have Vitamin C and Vitamin D.
My children absolutely love the Vitamin D we recently received, because they taste like a fruity jelly candy.  According to the website, the pectin (which makes them jelly) helps the body absorb the vitamins.
"Pectin is a nutritional fiber which helps the body absorb the vitamins.  An added benefit is that Pectin is softer and better tasting than gummies made of gelatin."
These are non-GMO, gluten-free, vegetarian, and free of nuts, milk, eggs, artificial colors, and preservatives.  They also don't get caught in your teeth for hours.