My name is Cassandra and I've been gluten-free for over eight years. Even though I am the only Celiac in the family, my home is completely gluten-free, to keep me safe and us all sane. I love experimenting in the kitchen with my two boys – Braden and Carter, and my little girl – Corice.
I am the book sales chairman of my local support group, North Texas GIG. We hosted the annual GIG Education Conference, June 6-7, 2008. We had a great time.
Music is my first love (though it now lies behind my family). Â  I love to sing solos at church (though it is still nerve-wracking) and be a part of the church choir. Â At times, I teach piano lessons, but not at present.
As of summer 2010, I do web design and whatever else comes along with it. Â I am also in graduate school, which basically takes up the majority of my life. Â 🙂 Â I am a teaching fellow, currently teaching Pilates, Aerobic Dance, and Physical Activity for Health-Related Fitness.
Braden is my little man. And by little, I mean just a few inches shorter than me.  We found out at the beginning  of the summer of 2012 that Braden is allergic to wheat, corn, soy, sesame, and peanuts.  Before, he was a help in the kitchen.  Now, he is learning to master the kitchen.
Carter is my cute little imp. Â He makes all of life interesting for us. Â I am rarely allowed to bake without Carter joining me.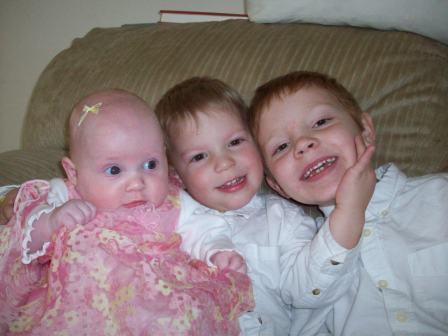 I finally got my little girl in September 2008.  Her name is Corice, and she is absolutely precious.  She is now a big girl, complete with princess panties and an attitude.  If I know what's good for me, I won't leave her out of a baking session.
The newest member of our family is my husband Martin. Â He is most supportive of both myself and Braden. Â  Â I'm pretty sure he thinks I'm the best cook ever, and I think he's an awesome dishwasher. Â 🙂
I sincerely hope you find something to delight your senses on my blog. Enjoy!
Updated July 26, 2012