Andy and I had a wonderful mini-vacation back in July (when I did not have a blog, and did not think to take pictures of food). I wanted to share it with you now. This is probably more than you wanted to know about our vacation, but I'm mostly copying and pasting it from before (as I've been trying to write about it for 2 weeks and haven't gotten it done).
At the GIG Conference last June, I won a night at Chicken Paradise Bed and Breakfast in the silent auction, and I decided to surprise Andy for his 30th birthday (it was July 7th). So I had been telling him that he was not to make any appointments on the 18th and 19th, but that's all I would say.
So Sunday night, he got a cold sore, and Monday he felt nauseous and Braden threw up. So I got really worried that we couldn't go, but Andy started feeling better (and so did Braden, mostly). Andy worked Tuesday, and when he got home Wednesday morning (he's a firefighter and works 24 hour shifts), my mom had already picked up Braden and Carter. I made us breakfast and sent him to take a shower and told him we would spend all day cleaning. I already had the suitcase packed and in the trunk, and had snacks in the backseat. When he got dressed, I ushered him to the car and we got going. All he knew was we were driving south. After we'd been in the car for more than an hour, he figured we were going to either Austin or San Antonio, but didn't know where or why. We stopped in Austin at the Wildwood Art Cafe, and had pork enchiladas, which were pretty good. We also got a dingdong (okay, but not my thing), and a lemon bar (we didn't like that).
Then we finished our drive to San Antonio, and got out at Chicken Paradise and Andy had no idea where we were. Anne showed us around and showed us our room, and she had printed off a happy birthday sign I had made, and had that on the dresser. Andy was at first weirded out by the whole bed and breakfast, this-is-somebody's-house thing, but eventually he got over it. They just have the one private entrance room that they let out, so we pretty much had the place to ourselves. The chickens were fun to watch, and I couldn't ever get the peacock to spread out his feathers, and the dog really loves to catch the frisbee.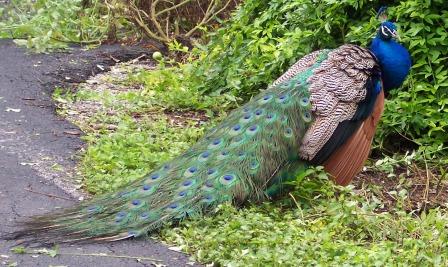 I had originally told Andy that we weren't going to see any movies, because it was all about spending time together and stuff, but seeing as we'd had 4 hours in the car (and we talked quite a bit), and it was raining, we went and saw Harry Potter. Then we went and had dinner at The Little Aussie Bakery (an all-gluten-free restaurant and bakery), and had some really good pizza and bread with garlic butter. We didn't get any dessert because we had eaten a lot of junk in the car, and I was feeling so full, though I'd only had 2 pieces of my personal pizza, and a couple of breadsticks. Well, little did I know… We had a good evening, but I threw up at 11:30 – and I was worried that Andy was going to be sick (but he wasn't). At least it was viral, and not gluten-related. I was feeling better in the morning, but not quite up to the whole breakfast.
Anne had made scones, and there was fig jam and strawberry jam, and fresh fruit. Joe made Andy a goat cheese and dill omelet and some bacon. Andy had never had goat cheese before, and thought it was a little odd, but he did eat the entire omelet, so it must have been good.
We went swimming and then took a shower in the outdoor shower. Andy was really weirded out about that, too. He swore he was going to keep his shorts on the whole time. It's private, surrounded by a fence, with a huge tree between it and the house, and hanging over the top, and there are lots of plants all around it. It's really pretty and peaceful. I could have stayed out there all day.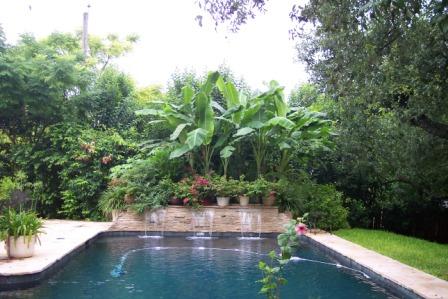 When we left, we drove straight home because it was raining. We got back to Burleson and Andy wanted to go see another movie, so we went and saw Fantastic Four and then picked up the kids. We played outside for awhile, and took some cute pictures.
Andy told me that this was the best birthday present he's ever been given. That is the absolutely greatest thanks he could give me.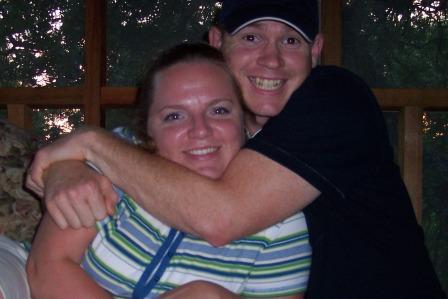 If you are ever in San Antonio, check out The Little Aussie Bakery, and make arrangements to spend the night in Chicken Paradise!
There are lots of wonderful plants at Chicken Paradise. I would love to be a really good photographer, but I'm not. But I will still share some of my favorite plant photos with you. Enjoy.