I had the pleasure of having some real Mexican enchiladas this weekend.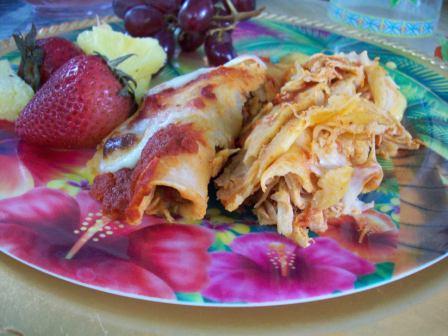 My little brother just graduated from college, and his mother-in-law threw a party for him.  She is from Costa Rica, and some of her best friends are from Mexico.  They helped her out and made the enchiladas for the party.  Marjorie (Corey's MIL) made sure the whole meal was gluten-free, except for the cake (from a bakery).  She made sure to have fruit for me, since the baby is not inclined to let me eat sugar (as she was going to make sure there was ice cream for me).  We had a wonderful dinner, and a great time just sitting around and talking.
I wish I could give you a recipe, but I can't.  Apparently, these ladies are taster-cooks (which is totally fine – that's how I often cook).  Everything but the corn tortillas were made from scratch.  But here's the real secret – they lightly fry the corn tortillas (individually) prior to rolling, and that's what keeps them soft and together.  Nifty, huh?  Now, you may have noticed that the chicken enchilada in the picture is not quite together.  There was a little too much going on, and they forgot about them a bit, and ended up scraping off the top (though I doubt they were that burnt).  At any rate, they were sooooo good.
So next time you make enchiladas, why not try lightly frying your corn tortillas first, and see what kind of difference it makes for you.