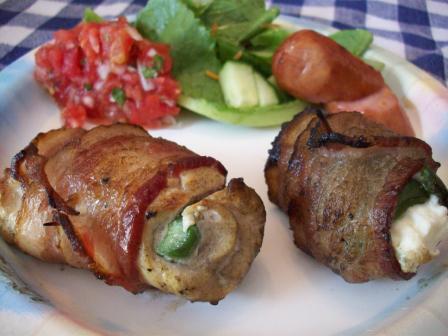 I hope everyone had a wonderful Memorial Day weekend. I sure did.
Andy went jalapeño-happy today. He made jalapeño poppers, chicken-wrapped jalapeños, salsa with jalapeños, and grilled some jalapeño sausage (Eckrich, I think). In the picture, the chicken one is on the left and the popper is on the right.
I ate quite a few of the chicken wraps (with the jalapeños removed), but was too chicken to try the popper (I am 5 1/2 months pregnant after all, and still sick from it). The chicken was so juicy! I just couldn't get enough of it.
Jalapeño Poppers
6 jalapeño peppers
1-2 8 oz packages of cream cheese
6 slices of bacon – uncooked
toothpicks
Put on some latex (or other such material) gloves to protect yourself from the jalapeño oils. Cut off the tops of the jalapeños, slice down the middle, and remove the seeds.
Fill the two halves of a jalapeño with cream cheese (as much as you want).
Wrap one piece of bacon around the jalapeño and secure with a toothpick. Repeat until all are done.
Grill until the bacon is cooked. These can stay on the grill longer than that, even.

Chicken-Wrapped Jalapeños
1 pound of boneless, skinless chicken breasts
a few jalapeño peppers
about a package of bacon
toothpicks
Again, protect yourself with latex gloves. Cut the jalapeños into strips (removing the tops and seeds). The width would depend on your preference (we used slices about a half-inch wide).
Slice the chicken into about 2-inch strips (the length of the breast). Pound it thin with a meat tenderizer.
Wrap a piece of chicken around a slice of jalapeño. Wrap a slice of bacon around the chicken. Secure with a toothpick. Repeat until all are done.
Grill until the chicken is thoroughly cooked.