About a month ago, Kate at Gluten Free Gobsmacked decided to host a virtual barbeque. The date is tomorrow. Yeah, I know, I'm barely making it in time (but I'm 6 1/2 months pregnant – so cut me some slack). We each picked a letter, and I got R. I wanted to make something with rhubarb, but couldn't find any in the stores. Finally, I found some – hiding in the back of my freezer, of all places. So here is what I came up with. It was a real hit!
Rhubarb and Strawberry Crisp
1 & 1/2 lb rhubarb, trimmed and cut (if frozen, thaw and drain)
1 & 1/2 lb strawberries, sliced (if frozen, thaw, but don't drain)
3-5 Tbs sugar (depending on the sweetness of your strawberries)
1/2 cup packed brown sugar
3/4 cup gf flour mix*
1/4 tsp xanthan gum
2 Tbs buttermilk powder
3/4 tsp baking powder
1/8 tsp salt
1/2 tsp cinnamon
1/2 tsp nutmeg
1/3 cup margarine
1/4 – 1/2 cup gf oats
1/4 – 1/2 cup finely chopped pecans
Place rhubarb and strawberries in greased 9×13 baking dish; sprinkle with sugar.
In a medium-sized bowl, combine brown sugar, gf flour mix, xanthan gum, buttermilk powder, baking powder, salt, cinnamon, and nutmeg.
Using a fork or pastry blender, cut in margarine until mixture resembles coarse crumbs.
Mix in oatmeal and nuts, and sprinkle mixture over fruit.
Bake in a preheated 350° oven for 35 minutes or until rhubarb is tender and the topping starts to brown. Serve warm or cold.
*You can use whatever flour mix you want. I used the standard Bette Hagman mix: 2 parts white rice flour, 2/3 part potato starch, 1/3 part tapioca starch.
The guys all had ice cream atop their first bowls, and ate their second bowls without. I was really pleased with how this turned out. Mom, I'm so sorry that you are away on vacation and can't taste it. 🙂
Prior to eating this wonderful concoction of mine (yes, I am pleased with myself – I'm only beginning to really experiment in the kitchen), we had hamburgers… on buns.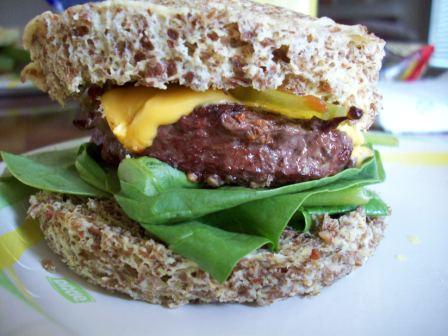 I made the microwave hamburger buns for our dinner. Andy deemed them a success. Because Braden hadn't appreciated the flax seed meal ones yesterday, I made him one with rice flour (same ratios), which he thoroughly enjoyed. Yeah, it was a little too big for his mouth, lol.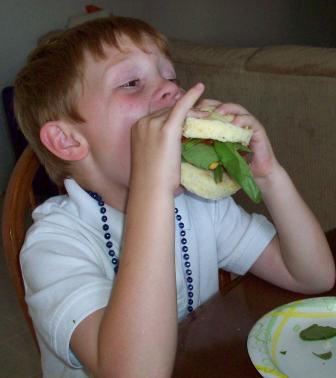 Check out Kate's blog in the next few days for her barbeque roundup. You should definitely leave with some recipes to try!