I think I had the best baby shower ever on Saturday.  My mom, Melissa (my big sister-in-law), and Nancy (my little SIL) threw a fabulous party for me.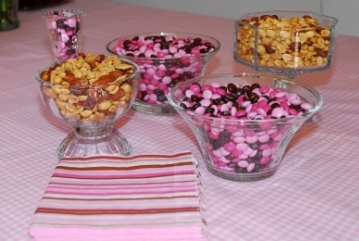 Nancy was in charge of coordinating and decorating and all that fun stuff.  I sure am glad, because she's the queen!  Pink and brown were the colors for the party, and it was a chic theme (as opposed to a bottles and pacifiers type thing).  Nancy got a whole bunch of pink and brown M&Ms, including some that said "It's a girl!" and "Corice Nicole" (the baby's name).  She and Melissa arranged them in various candy dishes and vases (that was a cute idea) throughout the kitchen, dining, and living rooms.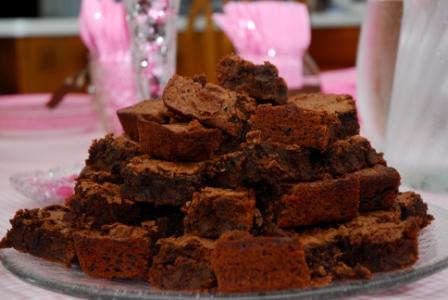 I had made brownies Thursday morning, before heading off to the doctor.  Thank goodness I had, because I got stuck on bedrest as of that afternoon.  A friend offered to come over and make and decorate the cupcakes for me on Friday, but her girls ended up with a fever and she didn't want to expose me to it.  It's alright, though, because the brownies were enough (barely – 2 9×13 pans, and only 4 brownies left before the guys showed back up).  In case you would like to try it, I was planning on making yellow and chocolate cupcakes (recipes from You Won't Believe It's Gluten-Free), and arranging them in a checkered pattern on a sheet cake board (like you would get from the bakery).  I was going to alternate with pink and chocolate icing, in a fancy swirly pattern, and press them close so it would look sorta like polka dots.  I'll have to try it for something else in the near future (maybe a Christmas party), as I think it would have been very cute.
Mom and Melissa were in charge of the rest of the food.  I provided a few things (Glutino cream of mushroom soup base, some gf flour, and some xanthan gum), and they set to work.  We had a wonderful table full of fruits, nuts, M&Ms, green chile bake, cheese potatoes, and of course, a tower of brownies.
No baby games for us, just chatting, opening presents, and eating.  It was a wonderful time.
I wanted to share with you a few of the gifts I received.  Nancy got me the cutest handmade diaper bag, with matching changing pad and blanket.
My friend, Aleta, made this quilt for me out of material I had bought five years ago with the intention to make a quilt (for my king-size bed).  I hadn't touched the material since.  Well, she did this in about a week and a half, and it looks wonderful!
My mother-in-law made this blessing outfit, and my friend, Amanda, made a special blessing bracelet.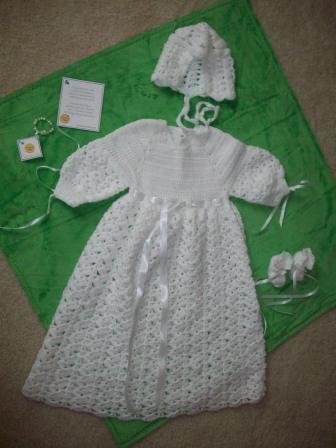 Thanks to all who made this a special day for me!
Green Chile Bake
10 eggs
4 cups shredded Monterey Jack cheese
2 cups cottage cheese
1/4 cup butter, melted
1/4 cup gf flour mix
1/8 teaspoon xanthan gum
1 teaspoon baking powder
1/2 teaspoon salt
2 4-ounce cans chopped green chiles
Preheat oven to 350° F.  Lightly oil a 9×13 baking dish.  Beat eggs in a large mixing bowl.  Stir in remaining ingredients.  Pour into baking dish and bake for 35 minutes or until the eggs are set.  Cool for 10 minutes.
(Serves 8 to 10 for brunch, 12 to 16 as an appetizer.)
.
Cheese Potatoes
1 1-lb bag of hashbrowns
1 can gf cream of mushroom soup, condensed (we used Glutino cream of mushroom soup base, and used half the water the directions called for – you have to cook it first, 5 minutes on high, stirring each minute)
1 8-ounce container sour cream
1 stick butter
1 onion – medium
1-2 cups cheddar cheese (or more if you're like me)
Preheat oven to 350°F.  Chop onion, and place in a microwave-safe bowl with butter.  Microwave on high for 5 minutes (stirring after the first and third minutes) to saute onion.  Mix hashbrowns, cream of mushroom, sour cream, and onion and butter mixture.  Place in 9×13 pan.  Sprinkle cheddar cheese over the top.  Cover with foil.  Bake for 50 minutes.  Remove foil and bake for another 10 minutes.  (You don't have to put foil on, but if you don't, instead of melty cheese you will have a cheese "crust" on the top.)