I told the doctor I had no intentions of waiting until the 18th to have my baby.  Lo and behold, my water broke early Monday morning.
Corice Nicole Gee was welcomed into this world at 9:27 a.m. on Monday, September 15th.  She weighed 6 pounds, 1.3 ounces, and was 18.5 inches long.  She is a tiny little thing, with dark strawberry hair (though it's only in the back).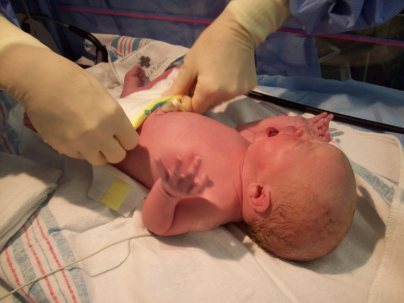 Ah, just a few minutes old.
The c-section went alright.  There were no big problems, but they did have to work pretty hard to get her out.  Unfortunately, that leaves me a little extra tender.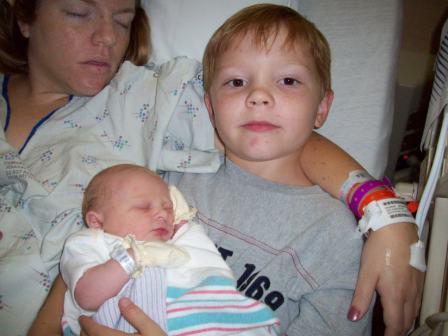 What can I say?  Morphine makes me seriously tired.
Carter had a difficult time while we were in the hospital.  He's doing much better now that we're home.  He loves to whisper "Baby Reese" (that's all he can say of her name for now), and check on her.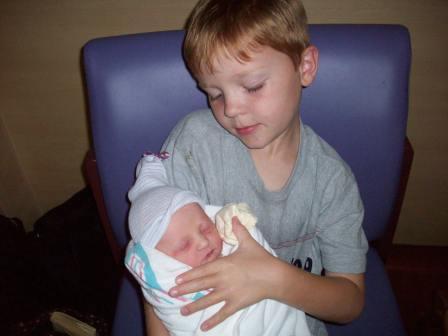 Braden's hand looks insanely huge against Corice, lol.  He is so excited to have a baby sister.
Here's the proud Daddy.
Andy thought she looked like she was playing peek-a-boo.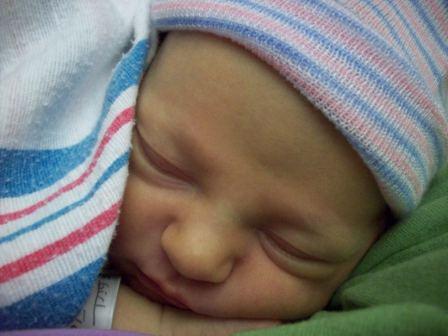 Corice definitely likes to be snuggled up against Mommy.
Getting ready to go home.  We got to leave the hospital early Thursday afternoon.
At home in Corice's ladybug room.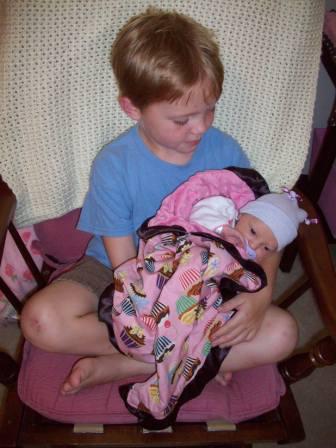 Last night, Braden said "it's okay if you don't give me much attention for awhile.  I know that Corice will need all your attention right now."  What a sweetheart!  That deserved extra hugs, something he couldn't get enough of yesterday.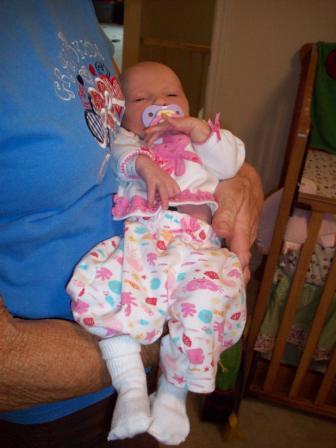 Can you tell how huge these clothes are on her?  And they're preemie-sized!  She only weighed 5 lbs 7 ounces yesterday when we left the hospital.  I think she's trying to regain those lost 10 ounces all today.  She's a hungry girl.  🙂
As for the hospital and gf, they get credit for trying.  All my oral meds were checked.  I didn't bother to inform dietary services, because it didn't work out last time.  This time, though, labor and delivery must have passed on the allergy alert, because my meals were obviouly different than everyone else's (the pickup cart was near my room, that's how I know).  But there was gravy (brown) on the meat the first night (though later my meal tickets had the "no gluten" highlighted and someone had written "no gravies"), and breakfasts had cereals with barley malt.  I had brought food from home, so Andy got to eat the boring imitation-gf food.  But it was progress from 2 years ago.