One of the goodies I brought home from the GIG Conference in June was 2 large bags of coffee cake mix, given to me by the head chef.  It was extra mix that didn't get used for breakfast one day.  Seeing as June was awhile back, and I was wallowing in pregnancy misery for months afterward, I cannot accurately recall where the mix came from.  I'm pretty sure it was a Cravings Place mix, but unfortunately, the company did not respond to my email.
The only thing written on the bag is "coffee base – makes one full hotel pan."  I don't know how big a hotel pan is, or what I'm supposed to add to the mix to get coffee cake.
Never fear, experimentation is here.
But if I'm going to experiment, I'm not going for coffee cake.  I want cookies.
Batch #1:
1 cup mystery coffee cake mix
1/2 stick margarine (1/4 cup)
2 eggs
3/4 cup raisins
Bake at 350° for 10 minutes.
These cookies were a little muffiny/cakey.  Some people like that.  I like it for breakfast cookies, but not for snacking cookies.
Batch #2
1 cup mystery coffee cake mix
1 stick margarine (1/2 cup)
1 egg
1 cup raisins
1/4 cup milk chocolate chips
Bake at 350° for 10 minutes.
These cookies were too crumbly.  However, after they sat for a couple of hours, they were just fine.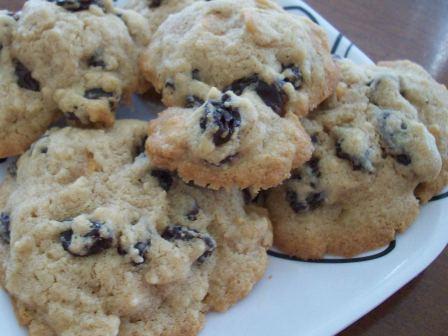 Batch #3
1 & 1/2 cup mystery coffee cake mix
1 stick margarine (1/2 cup)
2 eggs
1 cup raisins
1/2 cup butterscotch chips (Kroger brand are gf, Nestle are not)
Bake at 350° for 10 minutes.
These were my favorite.  I really like the butterscotch, and the texture was just right.
I did not add any sugar to these cookies.  The mix was not real sweet, but I preferred it that way.  Oats were next on my list to add, but by that time I had a cranky baby.  I'm surprised I was able to make 3 batches of cookies.  I will probably try some more in a few days, since I only used 1/2 of one bag (and I really like cookies).
Have you ever made something out of a mystery mix?
October 2nd – I love her bow!
October 9th – She's now too big for the preemie clothes (the 2 outfits I had, lol).  She's getting too big for the "newborn" size as well.  That green outfit in the previous picture is the only one of those I had, along with 2 pairs of pajamas. The pajamas in this picture are a 0-3, which are all still too big.  Corice looks like she's wearing football shoulder pads, because she's sliding down in her clothes, lol.
We had our first bad evening last night.  She cried for hours, which is more than she usually cries in a week.  I had no idea what was wrong, either.  Thankfully, she seems to be fine this morning.  She's just laying here on my lap, sucking on her pacifier (not something she generally does, though).