It's almost Thanksgiving!
Braden and I decided we wanted to make a cake that looks like a turkey.  We made some plans and drew it out.  Well, you can decide if it looks like a turkey or not.  But I now know how to make a great fish cake, lol.
We used 2 heart-shaped pans, and made the corn-based soft yellow cake recipe from Roben Ryberg's You Won't Believe It's Gluten-Free cookbook.  I took some shortcuts and used Pillsbury's milk chocolate frosting.  The candies are fruit slices and peanut butter M&Ms.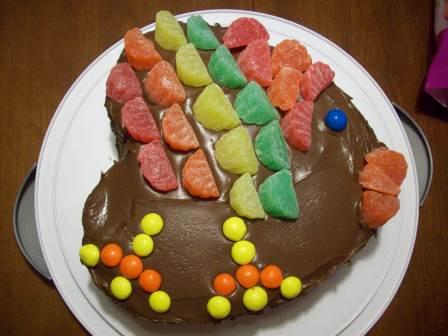 Turkey?  Or Fish?  LOL.  It does have feet.
And yes, I promised you some pictures of the children, specifically Corice.