This special blog post has been written by my friend, Sara Boswell, a cereal chemist down at Texas A&M University.  When not creating gluten-free breads for her masters thesis, Sara fins a little time to let out her more creative side.
Fall, that wonderful time of year when the season turns cooler, the leaves change colors, and we all prepare for the one night a year when we get to dress up in creative costumes and eat as many sweets as we possibly can and not have to feel bad about it.
Every year we spend time creating our outfits to wear on our big night out, but often times we forget to get a costume for a very important part of our fall traditions – the cupcake. Quite recently one of my fellow graduate students and I decided to make up for the lack of attention to the cupcake's costume by holding several baking nights in honor of the "costumed cuisine". Now I'm sure some of you are reading this going "Oh I can never duplicate that because these kids are experts at decorating!" Unfortunately, just because you are a gluten-free baked goods researcher, this does not mean you can decorate your way out of a paper bag – it just means that your cupcakes taste really, really good which is why I have the help of my food microbiology partner in crime, Keila to decorate cupcakes with me. Enough talking though, here is how we made our costumed cupcakes!
The Graveyard Zombie Cupcake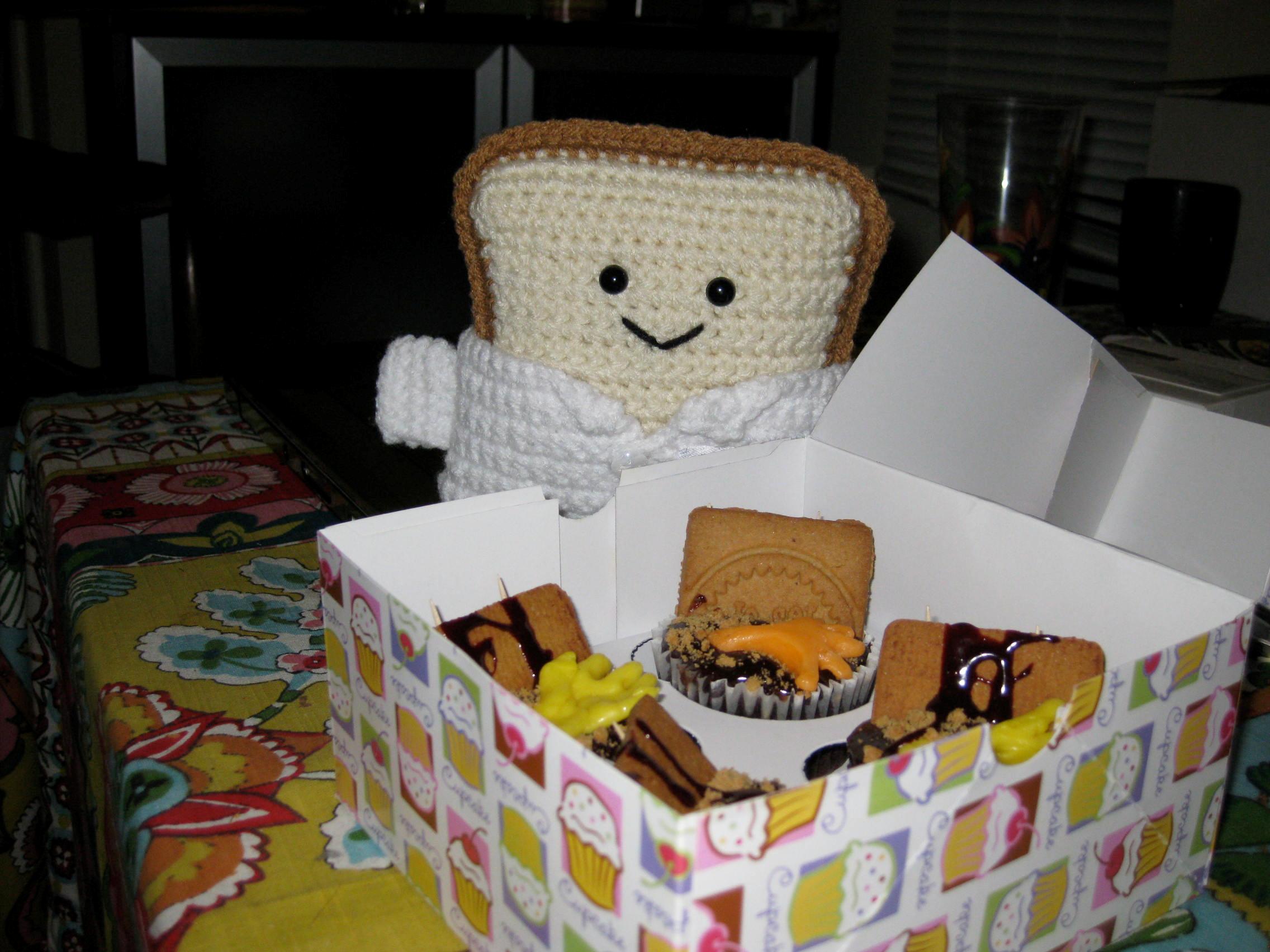 Supplies
Your favorite Chocolate Cupcake Mix
Your favorite Chocolate Icing
Josef's gluten-free coffee flavored cookies
Starburst Fruit Chews
Prepare a batch of your favorite gluten-free cupcakes and put a basic coat of chocolate icing on top. The icing can be applied with a dull knife or any sort of spatula of your pleasing. We used chocolate ganache, but unfortunately it did not taste as good as it looked so I would suggest something like Cherrybrook Kitchen chocolate icing instead.
Once the initial layer of icing is put on crumble some of the Josef's cookies to make the dirt to go around your grave, do not crumble all of them though or else you will not have your gravestones. Gently place enough cookie crumbs on top of your cupcake to where it looks somewhat similar to the photo below.
Now you can place your gravestones (the leftover whole Josef's cookies) into your cupcake. I would suggest breaking them in half so that they will not tip over. Once this is done all that is left is making the zombie hands.
Zombie hands are made out of the Starburst Fruit Chews. We used the orange and yellow colors for our zombie hands that we sculpted out of the fruit chew.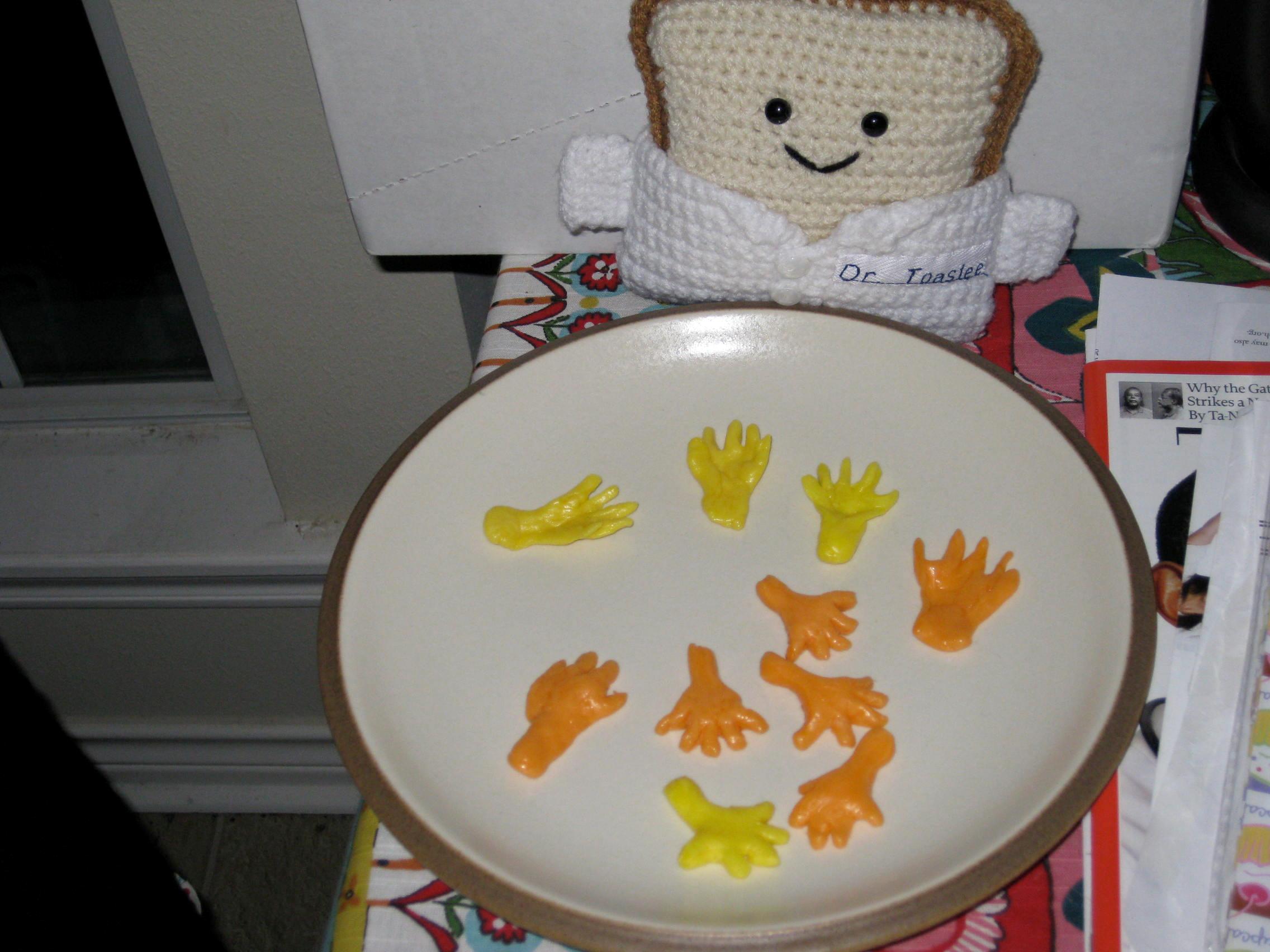 Once the zombie hands are completed place them in front of the gravestone and voila! You have a fancy cupcake without even picking up an icing gun.
If you are looking for a subject a little different than zombies then why not try making Bell Pepper Pirate Army?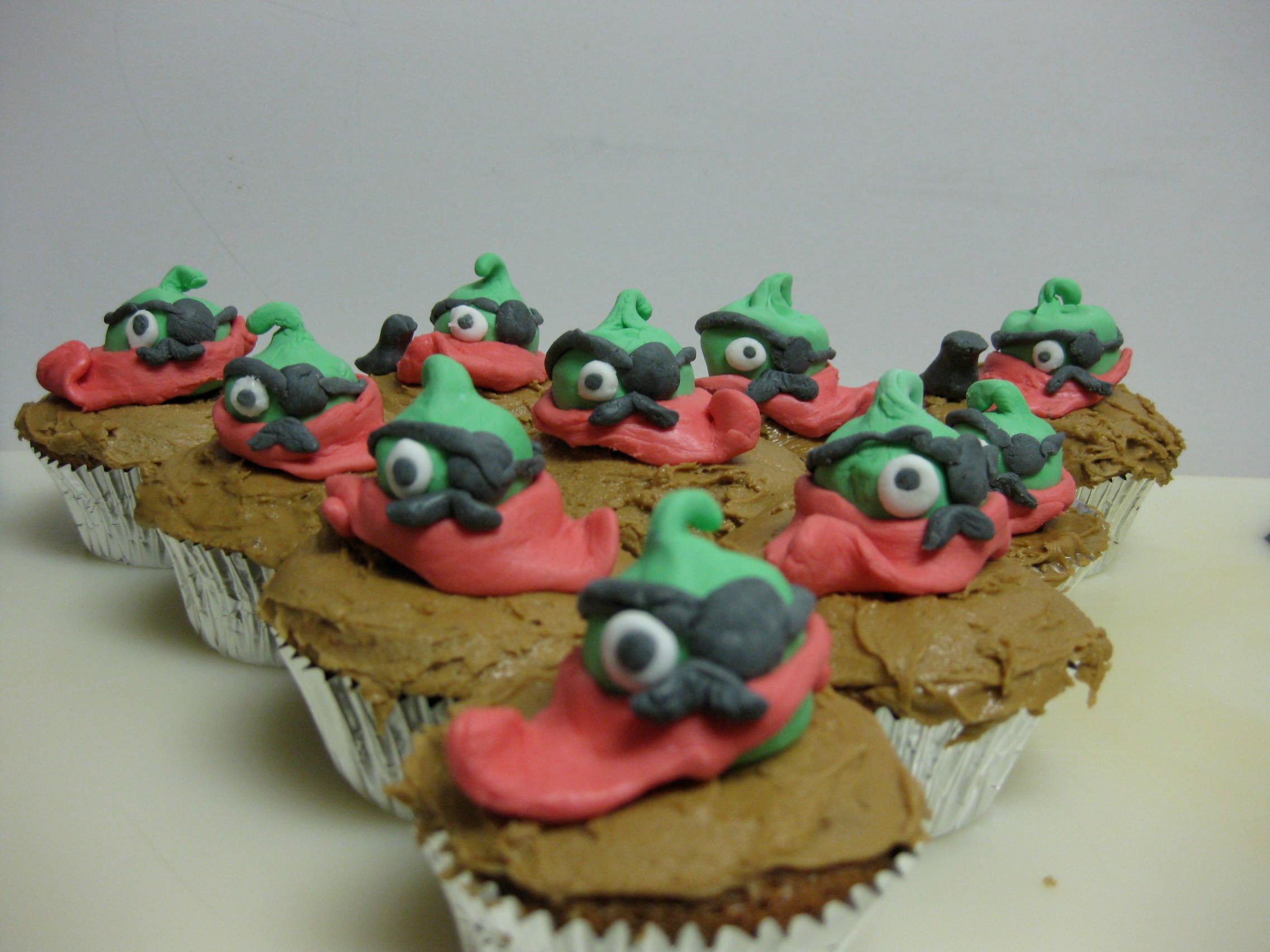 Supplies
1 batch of iced gluten-free cupcakes
1 large bag of mini marshmallows
1 bag (we used about a pound) of powdered sugar
Warm water
Food coloring (black, green, and red)
Once you have prepared and iced your cupcakes it is now time to make marshmallow fondant. Fondant is a bit tricky at times as it is more of a texture and feel issue so in different climates you will use different amounts of powdered sugar but if you follow these instructions it shouldn't be too hard.
Place 1 cup mini marshmallows in a standard measuring cup, add these to a microwave-safe bowl and then add 1 tablespoon of water. Microwave for about 20 seconds (just long enough to soften). Start stirring with a spatula until you can no longer see the shapes of the marshmallows and then slowly fold in 1 ¾ cup of powdered sugar.  Keep adding powdered sugar until the mixture is no longer sticky. Fondant should be workable, almost like a soft play dough and not stick to your hands. One thing to remember is that as you work with fondant it will pick up moisture from your hands so you will need to continue adding powdered sugar as you form your shapes and add your colors.
For our bell pepper pirates we divided our fondant into four new separate bowls to add coloring to. The largest section we added the green food color to, to make the bell pepper, we had a small portion that we added red to for his pirate bandana, a small portion that we added black to for his eye patch and bird, and finally we left a small portion white to make his eye. One thing to remember when working with food coloring is that it will stain your hands and that it is important to wash your hands regularly when working with it so you don't accidentally get green color in your red bandanas.
Once we mixed in the food coloring we created a small assembly line of pirates. Since there were three of us Keila shaped our little bell peppers by hand, while Rayna worked on their eyes and eye patches while I worked on the bandanas. The assembly line method was very quick and easy and once we finished we realized we had extra black left so we made a few crows to go with our pirates.
Interested in following more of our cupcake adventures or just listening to ramble about grad school adventures? Then follow me at @iLiveinmyLab or Keila "the cupcake lady" @Kivol on Twitter
Also want to know where we got that adorable piece of crocheted toast that is our helper you see in most of the pictures?
Check out YummyPancake on Etsy to get your own Mr. Toastee!