I am just loving the Olympics!  How about you?  What is your favorite Winter Olympic Sport?  Mine  is figure skating, particularly the ice dancing.  Those couples make what they are doing look like so much fun.
What else is fun?
Cupcakes.
Cupcakes are fun – no question.
The good folks at Glutino sent me some Gluten Free Pantry mixes.  We decided that the snow of the other night called for cupcakes, specifically Decadent Chocolate Cake cupcakes.
Gluten Free Pantry has some snazzy new packaging.  My favorite feature – it's a normal box (fits better in the pantry).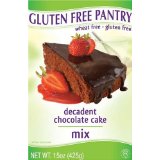 It also has a very scrumptious-looking picture on the front.
The recipe gives you the option for 8 ounces of buttermilk or low fat yogurt.  I chose to use a 6 oz Yoplait white chocolate strawberry yogurt plus 2 ounces of plain yogurt.
The batter was thick and fluffy, and very tasty.  Licking the beaters is a time-honored tradition which we uphold with great joy.  🙂
As it was getting late, we ate our cupcakes when they were still warm from the oven.
"Mmmmm mmmmm mmmmm" was all I originally got from Andy.  He concluded that it was a good mix.
Braden noticed "a tiny bit of crunch to the top," which he enjoyed immensely.
Carter was very excited for his tasty chocolate muffin (he could not be convinced otherwise that it was a cupcake).
Corice told me "cuh-kay mmm."
It had a great texture, was very soft, and a really nice chocolaty flavor.  We paired it with a milk chocolate canned frosting (for lack of time), but the Decadent Peanut Butter Cup Frosting recipe on the back of the box looks soooo tempting to make.
I am pleased to tell you that I managed to avoid the cupcakes while watching the Olympics, though it was pretty difficult.  But perhaps a treat for after the gym…