With all the craziness and busy-ness going on lately, Melissa and I had to take some time bake some fun desserts (now that she can have sugar again).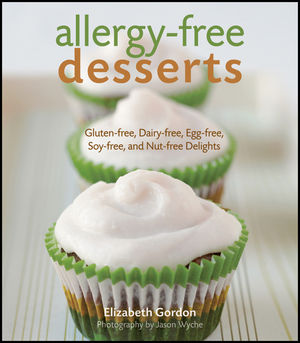 We chose to try out some recipes in a new cookbook that I recently received from the publisher.  Allergy-Free Desserts: Gluten-free, Dairy-free, Egg-free, Soy-free, and Nut-free Delights, by Elizabeth Gordon, I think, is a great dessert book if you have multiple food allergies.
There are many great-sounding recipes that I've wanted to try, but just haven't had the chance yet, and a few that I have tried.  Have you been missing out on peppermint patties, red velvet cake, pies, or cookies?
Allergy-Free Desserts begins with some helpful baking tips, and has some spread throughout the book.  It is definitely the cutest cookbook I have seen in a long time.  Not only are there great pictures throughout, but some pages (specifically the chapter title pages) are covered in colorful patterns.
Melissa really wanted to try the key lime pie made with avocados, but I think I'm allergic to those.  Instead, we settled on the Quick Cherry Crumb Bars for our first recipe.
Luckily, I read the whole recipe before beginning.  It may just be a pet peeve of mine, but I'm a little annoyed by recipes that tell you to preheat the oven at the very beginning, when you don't need the oven for a half an hour (maybe it comes from living in Texas and the intense heat we suffer from 8)).  But this is a good reminder that you should always read the whole recipe before beginning, because you have to refrigerate dough, bake it, cool it, then bake some more.  I don't really think it qualifies as a "quick" recipe, but at least you don't have to cook the cherries (I guess that's what the "quick" refers to).
We thought this was a great recipe.  I could detect a hint of a bean flour aftertaste, but I was the only one who could.  All of the children gobbled theirs up and I got lots of  "thank you, Mommy" and "yummy, Aunt Cassandra".  Melissa has plans to try this recipe again with different kind of pie filling.
I must really be falling down on the job, because I can't find any pictures of what I've made recently.  So sad…
Last week, we decided on Pumpkin Bread.  This was really quick and easy to prepare, but then I got to torture the kids for an hour while it baked.  :)  I'm not sure why the recipe calls for cooling the bread in the pans, but I prefer cooling it on a rack.
This bread was awesome!  The flavor was so good, the texture was great and it sort of melted in your mouth.  I probably should have felt a little guilty about all of the slices I ate, but I didn't.  (I did, however, burn over 700 calories at the gym the next morning, so I guess it's okay.)  I was really surprised by this recipe.  I haven't used flax too often for stability of eggs, so I am not well-versed on its effectiveness.  But it worked out superbly for this sweet bread.
Oh great, now I'm craving it and I'm out of pumpkin…