Last week was a crazy week for me.  Not only did I have my trip to Chicago to prepare for, I needed to spend extra time with Corice, had a sick Carter, a field trip with Braden, a field trip with Carter, all on top of my regular mom/employee/piano teacher duties and a number of other things.   It was insane!  Braden's school does something called Moms and Muffins each year, where the Moms come and eat muffins with their students before school (which, if I wanted to attend and enjoy, meant I needed to bring my own muffins).  Thursday, between finishing Braden's field trip and starting piano lessons, I had about 50 minutes to bake muffins – not really enough time to bake from scratch.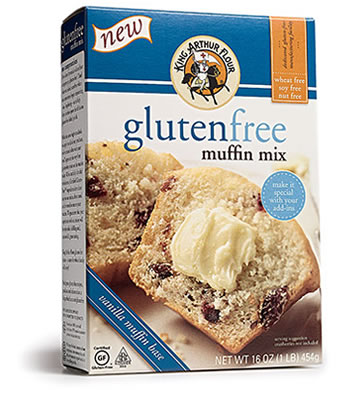 Thankfully, I had bought a King Arthur Flour Gluten-Free Muffin Mix a few months before, and now I finally had a chance to try them out.
When I opened my fridge to grab the eggs, I saw some gorgeous oranges and just knew what I needed to do. Â  I quickly decided I had to make good use of my zester.
I zested an entire (fairly large) orange, probably amounting to 2-3 teaspoons, and added it right in with the oil and eggs.   I then proceeded to follow the directions precisely, and added Craisins to the mix.  I would have added some white chocolate chips, too, but I was all out.   It seems I have been using them a lot lately.
Filling the cups as directed, I got not 12, but 19 muffins (okay, I may have added a little more than 1 3/4 cup of craisins).  I'd much prefer to get more than what is listed than less.  Sara once told me about the difference in size between muffin tin brands (it was causing a problem with her cupcake papers), so that may have something to do with it. For reference, my pans are Wilton.  Oh yeah, I also threw the last little bit of batter in a mug and microwaved it for 55 seconds.  It worked out just fine.   On more than half the muffins, I sprinkled large sugar crystals, for a little added beauty and crunch.  The others, I left plain, because I had something else in store for them.
Making muffins was a great way to make my house smell great before piano lessons! Â  (Although it does tend to cause my students to be hungrier.)
As I opened the oven door, I was greeted by nineteen golden beauties, some even wearing their evening sparkles.  Their aroma would have made Bath and Body Works jealous.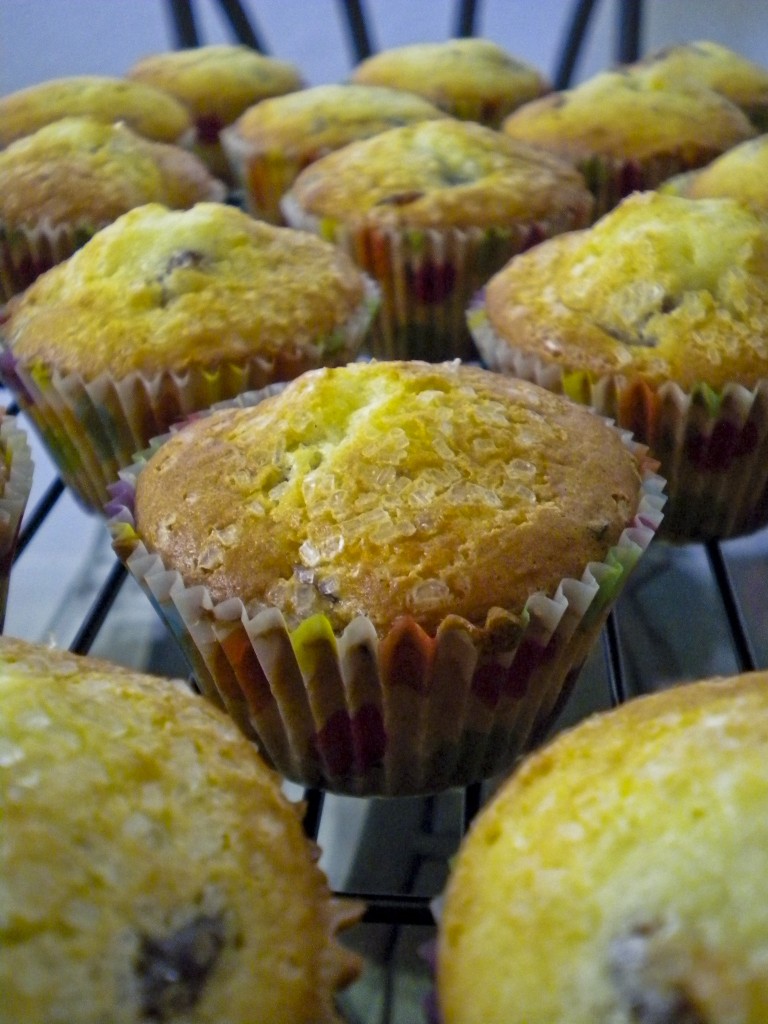 Did you know that the KAF GF Muffin Mix has nutmeg?  I didn't realize that until after I had started beating the mix and could smell it.   I didn't know how well that would work with the orange peel.
Well, it turns out that it's a pretty awesome combination.   First day, you could taste the orange and the nutmeg distinctly, but they went well together.   By the second day, they had merged into one glorious flavor.
Fresh out of the oven, though, I didn't think the orange flavor was strong enough.  I was going to recommend if you tried this, you might want to try using orange juice for part of the milk called for.  However, I no longer think that's necessary.
The muffins were soft and fluffy, almost cake-like, with a medium sweetness.
Remember the Cinderellas of the muffins, left plain?  Though I was out of white chocolate chips, I did have some white almond bark (and yes, I could have chopped it up, but I was working on a very tight schedule).  After the muffins had cooled (after piano lessons), I warmed up some of that super-sweet goodness and drizzled atop those plain muffins, to give them some decoration, too.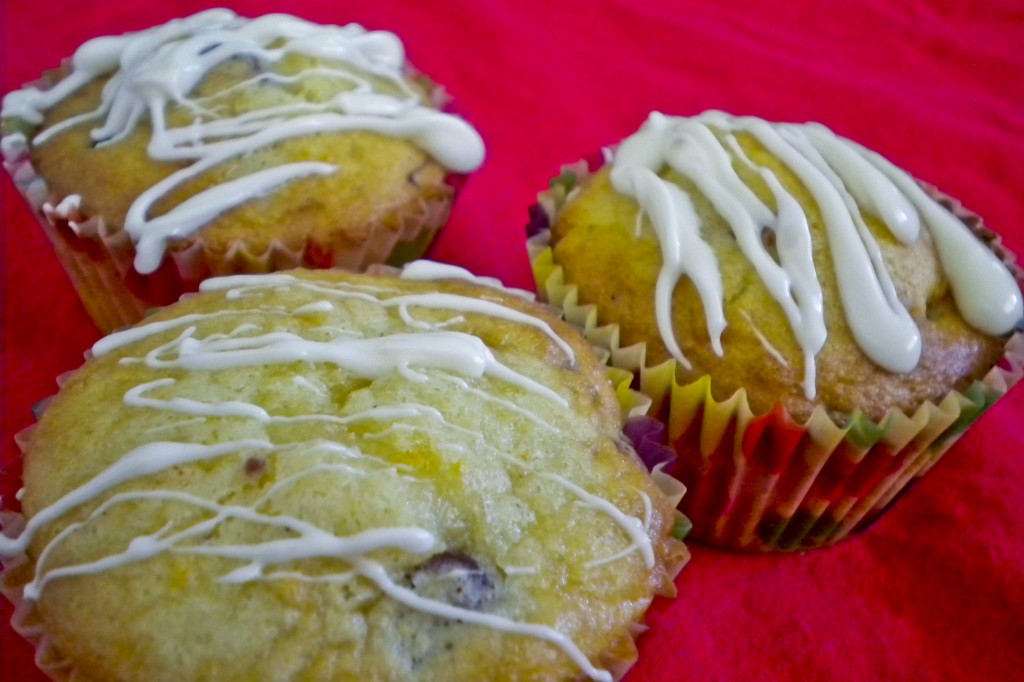 The next morning, we go into Moms and Muffins toting our own soft, fluffy goodness.   Braden had one of the regular muffins, but he declared mine better – tastier, and they crumbled less.   The flavors had all melded nicely, and the drizzle on top was like the pretty bow on the birthday present.
One of the things I love about being gluten-free is the opportunities we are presented with to enrich someone's life.
The receptionist at Braden's school has celiac disease (this is her first year here).  When I found her in the cafeteria, I headed over with a ziploc baggie with 2 muffins that I had prepared for her at home.   Did that cost me any time?   About 20 seconds to write on the bag, and a few seconds to place the muffins inside.   But what did it mean to her?   She had just been sitting there with her daughter, who was eating her gluteny muffins.  I got a hug and went back to my seat, but my sister-in-law remarked that the lady had just lit up, that it was obvious I had made a difference.  I encourage you to do something like this.   Find the opportunities to share with someone, and make a difference.  It may not mean much to you, but it could leave a huge impact on them, and may not ever even know.
My kids liked the muffins so much that Carter wanted to take some to his teachers.  🙂
Third day, the muffins were still soft and moist, although I could barely discern a touch of dryness inside (but I was looking for it).  The flavor may have been even better than the day before.  It was definitely nice to have a muffin (or two) before my plane ride, instead of my usual protein bar.   Happiness is a muffin at the airport, right?