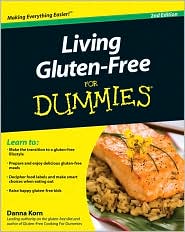 To go along with yesterday's video interview with Danna Korn, I have a copy of Living Gluten-Free for Dummies, 2nd edition, by Danna Korn to giveaway!
This book was sent to me by the PR firm in charge of the video interviews, and came a bit too late for me to include it with that post (in other words, I totally forgot it was coming until I saw UPS parked in front of my house).
You've all seen the Dummies series, with their bright yellow covers.  This one is no exception.
I have the first edition, and read it when it came out (I had also read Danna's earlier books, Wheat-Free Worry-Free and Kids with Celiac Disease).  Danna's books are well-written and provide a lot of helpful information, especially for those recently getting started living gluten-free.
From the back cover:
Go gluten-free — get a handle on the whos, whats, whys, and hows of going gluten-free (and the many medical benefits of a gluten-free lifestyle)
Connect the dots — discover the fascinating connections between gluten, autism, and behavioral disorders
Speak Glutenese — learn how to decipher label lingo and know what to look for (and what to avoid) when shopping for food
Make it nutritious (and delicious) — follow recipes for making family-pleasing gluten-free meals, from enticing entrees to sensational sides and everything in between
Get out and about — get practical tips and guidance on keeping a gluten-free diet whether you're eating out or on the go
If you would like this book for you, a friend, a loved one, or someone who really needs some good information, leave a comment about the best tip you learned when going gluten-free (or ask a question if you don't know anything yet!).
You have until 9pm central on Wednesday, June 1st, 2011.