We're a few days in to National Celiac Awareness Month.  Have you made it a point to tell people about Celiac Disease and Gluten Intolerance?  Have you shared some great gluten-free food with someone new?
Mambo Sprouts, marketing with the health, natural, and organic product consumer in mind, is celebrating Celiac Awareness Month.  If you don't know anything about them, check out their website.  They have an email newsletter, recipes, contests, and coupons (yes, coupons – with lots of gf options).  One of the ways Mambo Sprouts is celebrating Celiac Awareness Month is to share new products.
I arrived home from the gym one day last week to find a box from Rudi's Bakery on my doorstep (I really like that packages generally come to my house as I'm leaving the gym).  For the life of me, I could not remember having any conversation at all with the Rudi's people (sometimes, yes, that does happen).  However, I shortly found that it was Mambo Sprouts that had sent me the product for review.
But seeing as I had no recollection, can you imagine my great surprise, coming home, nearly starving, after Spin and Boot Camp, to find such wonders as Hot Dog Rolls, Hamburger Buns, and Pizza Crusts sitting on my front porch, calling my name?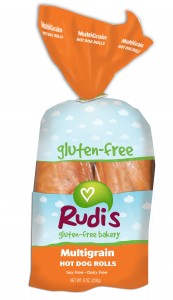 Despite the fact that it was only 10:30am, I had lunch right away.  I mean, it really was a no-brainer – there were even hot dogs in my fridge and one lonely chicken patty in my freezer.
After a 15-second zap in the microwave, and quickly slicing the roll (it does not come pre-sliced), I was ready to add my steaming dog (of course, I tasted the bun first).
Do you remember when you were little and you always squished the hot dog or hamburger bun?  Well, I remember doing that.  I would have that nice, fluffy bun squished into a flat layer around my dog or burger.
Guess what – you can actually squish this fluffy bun!  Yes, it is fluffy and light, and it is squishable (a must for any kid, and something I have yet to find in a gf bun).  The bun holds together really well (squished or not), and there is very little crumbling (just a bit on the outside crusty part).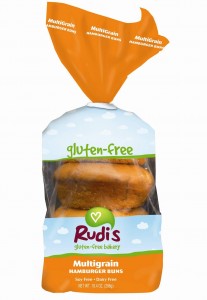 The hot dog roll has a tasty whole grain flavor.  Flaxseed, whole millet, and sesame seeds add little crunchies throughout the roll (they are in the bun, not on top).  Rudi's rolls don't stick to your teeth (have you experienced that with a lot of gf stuff?).
I found the hamburger buns to be much the same (in fact, their ingredient labels are pretty similar).  The hamburger buns seemed to be just a tad drier on the outside, though they were still soft and moist on the inside.  It held up very well under a really juicy chicken and caramelized onion burger, no falling apart at all.  Once again, it was squishable (very important if you add a lot to your burger and have a little mouth).
They're really good, and at an MSRP of $4.49, they're not cheap, but they won't break the bank (I once paid $9 for 4 really crumbly hot dog buns).
Sometimes, there is a spoiled little princess, who must be having a growth spurt, who is home alone with her mommy and gets to try things before everyone else.  This was the case with the pizza crusts.  It was nearly time for Grandma to come over for her piano lesson, and Corice was just dying of starvation (even though she had already had 3 meals that day – before 1:00pm).  I opened the fridge and saw some asparagus that Grandma had brought the day before, and the leftover alfredo sauce, and knew that there was bacon in the freezer and spinach that needed to be eaten.  Coincidence?  I think not.  So I made some pizza for the little princess.  Of course, when my mom walked in and smelled the awesomeness, she had to have some, too (she thought it was a really good crust).
I'm not sure exactly what oven settings should have been used, as my crusts came in a plain bag.  So I did what I usually do in that circumstance: 350°F and watch it.  I think I had my pizzas in for about 20 minutes.
The crust has a very subtle flavor, easily masked by the toppings, with a very slight starchy aftertaste.  Even using a lot of sauce, the crust did not get soggy.  Cooked on a plain baking sheet, the bottom was almost crispy, with a very thin layer above like thick bread, with the outside edges getting a little crispy.  Even though it's not an eat-the-next-day-cold pizza crust, it is still a pretty good one.
But now I want a hot dog…if only I had some chili…
Did you know that Rudi's Gluten-Free Bakery is certified gluten-free through the GFCO?  They are also made with only all-natural ingredients.  I love this statement from them:
At the heart of it all, we believe living a healthy life leads to happiness. Rudi's Gluten-Free Bakery is a natural extension of our commitment to baking on the bright side, creating healthy and wholesome breads and baked goods the whole family can enjoy.
If would like to try them, check out the Mambo Sprouts website, where they currently have a $1.00 off coupon for Rudi's Gluten-Free (along with some other good gluten-free coupons).  They often have good coupons in their e-newsletter, too, if you are inclined to sign up.