The day I arrived in Salt Lake was a great day.  My niece, Sarah, was super excited when she and her sister got to go with my sister-in-law to pick me up from the airport.  It's always a great feeling when kids are excited to see you.  They moved in September, after living 10 minutes away from me for over 2 years.  As you can imagine, it was a little rough on us all.
After spending a little quality time with the girls, I headed out to Alta ski resort with my friend Tim and his son Robby.  I had had one previous skiing experience.  When I was 15, my step-grandpa took me once down the bunny slope then left me alone.  Alone, in the snow, on a mountain, when I was 15?  I spent the rest of the day drinking hot chocolate with my older brother.
I'm quite a bit more outgoing and adventurous now, so I decided to give skiing another shot.  I had no idea how to even stand on the skis.  I fell twice on the way to the ski lift, but I figured out what I was doing.  We had time for three runs: I made myself fall twice on the first one (I couldn't turn fast enough, and was afraid of hitting the rocks), but didn't fall at all the second or third time, and went a whole lot faster.  All in all, I think I did a rather excellent job.  I think it's the Zumba (and the kickboxing, and racquetball, and spin, and weightlifting…).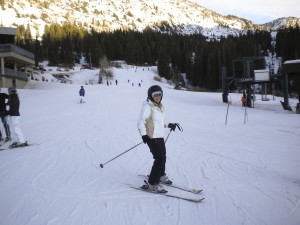 Skiing made us hungry, so we headed in to downtown Salt Lake City to Biaggi's.  The thought of Italian was just too appealing for me.
Tim and I are both gluten-free, and Robby decided to order off the gluten-free menu so that we could all share.
Robby got the Grilled Chicken Parmesan, which was covered in marinara sauce, served with gf spaghetti and garlic Alfredo sauce.  You can tell you're getting the gf spaghetti because they use the green Tinkyada spinach spaghetti.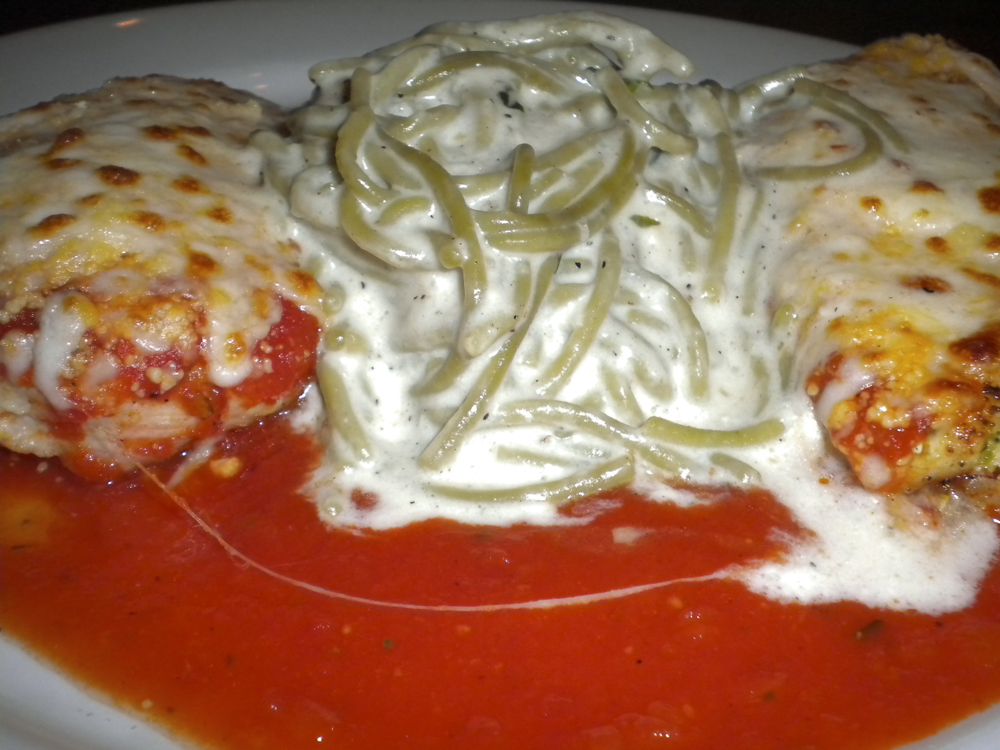 The chicken and the sauces were excellent.  I found the pasta to be a little overcooked (I prefer mine al dente), but that may have had to do with the sheer number of people there for how early it was in the evening.  Everyone wanted to eat before the Jazz game.
Tim ordered the Grilled Chicken Pietro, a "grilled chicken breast topped with a homemade sauce of balsamic vinegar, Dijon mustard, rosemary, garlic and a touch of honey. Served with sautéed portabello mushrooms and seasonal vegetables."
I can honestly say I've never had chicken like this before.  The sauce was a little sweet and a little tangy and vinegar-y.  It was an excellent combination of flavors.  The veggies were cooked just right, in my opinion, a little soft but with a hint of crispness.
I ordered the Chicken Piemontese.  After reading the description, I really had no choice.  "Grilled chicken breast stuffed with imported Italian ham and smoked provolone and Gouda cheeses. Topped with a lemon-basil butter sauce and served with sautéed asparagus and roasted herb potatoes."
Ummm, yes, please.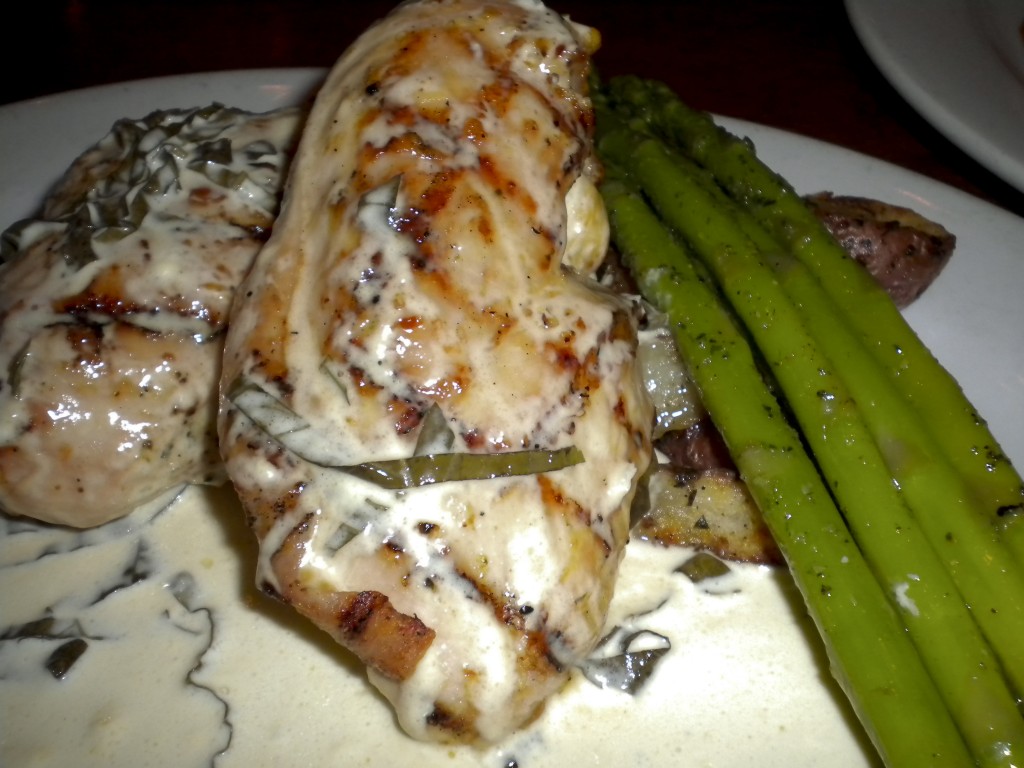 The asparagus was just right, the potatoes were crispy on the outside and soft on the inside, the sauce was excellent, and there was prosciutto and heavenly Gouda and provolone inside my chicken.   I am definitely a fan of this dish.  In fact, I had a hard time deciding whether I liked this one or the Pietro more.  The Gouda and provolone won me over.
I liked it so much, that I was afraid my brother would steal my leftovers.  I hid them in the back of the fridge and promptly finished them off at 6am.  🙂
No Italian meal is complete without dessert, and Biaggi's did not disappoint.  Their creme brulee was excellent, giving us just the right amount of smooth filling and crunchy sugar topping to satiate our collective sweet tooth.
Biaggi's has a number of locations scattered about in 12 states.  What has your Biaggi's experience been like?