Some days, you just lazily wake up, knowing there is absolutely nothing that you absolutely have to do that day.
These days are few and far between for me, but I managed to get one on Monday.  I was slightly harassed by my friends for not showing up to Zumba, but I've since gotten over it.  🙂
I was productive, however.  When my friend Martin came over for a late breakfast, I decided that normal pancakes just wouldn't cut it that day.  So I got a little fancy in the kitchen.
Generally, when I do this, I don't pay too much attention to what I'm doing and don't write anything down.  But you're in luck, and, this time, I did.
I started with my favorite pancake recipe, from You Won't Believe It's Gluten-Free by Roben Ryberg, and modified it to suit my desire for pumpkin pancakes.
We found these pancakes to be moist and fluffy, with a medium pumpkin flavor.  I preferred them with some Enjoy Life semi-sweet chocolate mega chunks.  Martin preferred them without the chocolate.  I think they're kinda awesome, but I may be a little biased.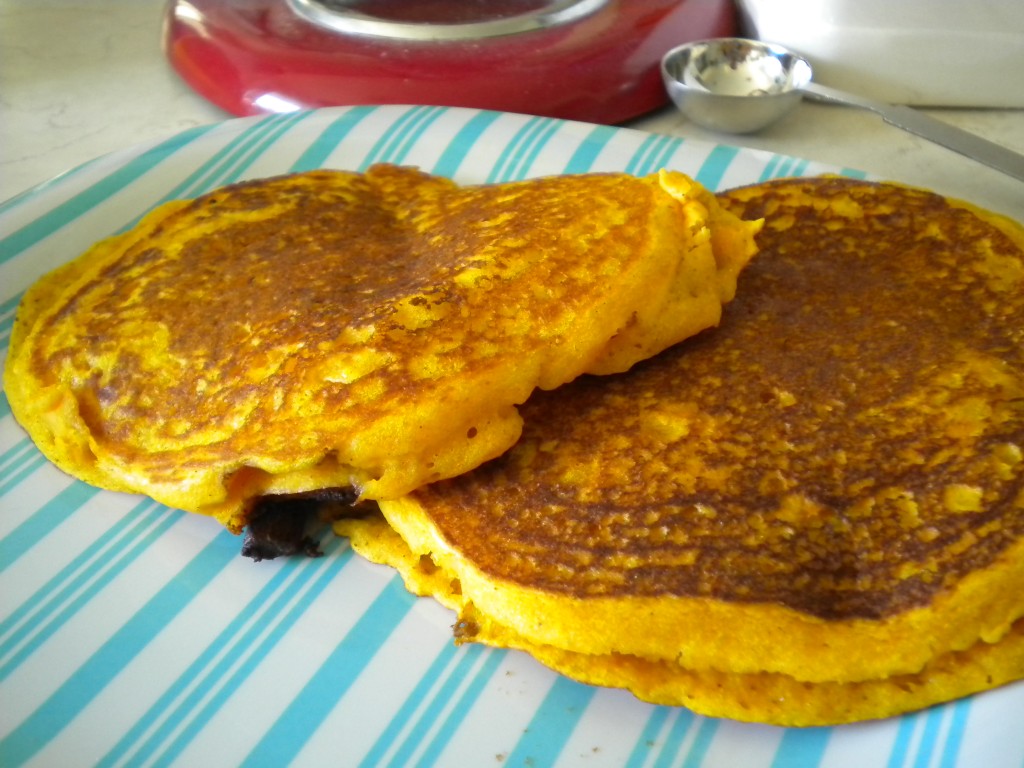 Recipe: Pumpkin Chocolate Chip Pancakes
Ingredients
350 grams canned (solid pack) pumpkin
1 egg
1 1/2 cup cornstarch (190 grams)
1 1/2 Tablespoons baking powder
3 Tablespoons sugar
1/4 teaspoon salt
1/4 teaspoon xanthan gum
1/2 teaspoon pumpkin pie spice
1/4 cup oil
1/2 – 3/4 cup milk
semi-sweet chocolate chips, optional, to suit taste
Instructions
Place all ingredients in medium-size bowl (except for chocolate chips). Mix very well. Stir in chocolate chips, if desired.
Heat pan or griddle to medium heat.
Pour the batter into the pan to your desired size of pancakes. Cook until small bubbles appear on the surface and the bottom becomes lightly browned.
Flip and continue to cook until lightly browned on both sides.
Preparation time: 10 minute(s)
Cooking time: 3 – 5 minute(s) (-ish, each)

Diet tags: Gluten free
Recipe by Delightfully Gluten Free.