Who is hungry for a snack???
Around here, there is almost ALWAYS someone hungry for a snack.  Luckily for us, El's Kitchen sent us some of their new Medleys to try: Cheddar Medleys and Sour Cream and Onion Medleys.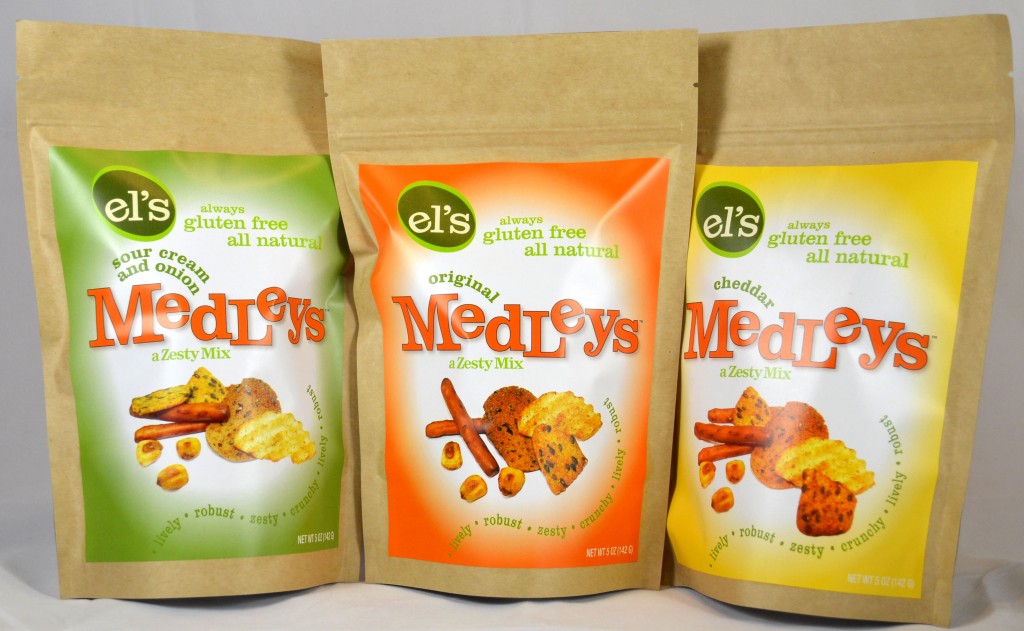 You may recall hearing about the Original Medleys awhile back.  Now they've taken them and added some more flavors!
The Medleys are full of gluten-free pretzels, corn chips, potato chips, corn nuts, and bagel chips(!!).
I love cheese.  My kids love cheese.  So, naturally, we love the cheddar medleys.  What is there to say about cheesy goodness on crispy snacks?  Awesome, addictive…  The bagel chips have a slight sweetness to them which gives a little added dimension to the whole thing.
Sour cream and onion was my least favorite flavor growing up, but I think they did a pretty good job with it.  Martin and Corice, however, both gave them two thumbs up (whereas Martin only gave the cheddar one thumb).  The potato chips are the ones with the most sour cream and onion flavor.  The other snack ingredients still carry their own flavor, but with more of a hint of the sour cream and onion. "Instead of the strong, artificial flavoring of those other brands, it has a muted natural flavor."  Even though he was somewhat mocking me, that is how Martin feels about them.  🙂
Luckily, I had a bag of the original medleys on hand, so we could tell the difference.  The original ones are a bit spicy.  Really, all that's changed is the flavoring on the outside.
My favorite is definitely the cheddar.  Martin's was definitely the sour cream and onion.  Corice, on the other hand, when asked, said "that one, that one, and that one." I guess they're all the best to her!