Have you ever had some piece of kitchen equipment that you thought you should use more often?  I have.  Heck, I've even got kitchen equipment I've never used.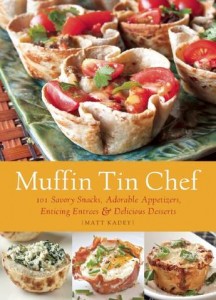 I recently received a copy of Muffin Tin Chef from the publishers, and found that the author, dietitian Matt Kadey, had a similar experience.  His began as a magazine assignment to use the muffin tin, but without making muffins.
I was initially intrigued by this cookbook solely by the premise of creating meals in muffin cups.  My initial thoughts involved things like "that would be great for school lunches."  With food allergies and sensitivities, including others' (I don't send peanut foods to school because of other children's allergies), it can begin to make lunches a bit on the boring side, as well as an annoyance to pack.
Muffin Tin Chef is not a gluten-free cookbook, but it does have quite a few recipes marked with a G for gluten-free.  In addition, there are many recipes that could easily be made gluten-free by just substituting with gluten-free bread, oats, or noodles, and others that use a minimal amount of flour that shouldn't be greatly effected by just subbing gf flour.  There are a few recipes that are largely flour-based that I intend to try with gf flours.
We had some guests over the other night, and decided to give the Taco Cups a try.
They were incredibly easy to make, though it did take more preparation time than having everyone create their own soft taco.
They taste like tacos, of course, somewhere between a soft and a crunchy taco.  The coolest thing about these is that they weren't messy.  When my kids eat tacos, there's always a huge mess, cheese and meat migrating all over the table and floor.  The taco cups had a layer of meat between two layers of cheese, which then got baked together to hold firm.  The only mess we had was Corice's giant pile of salsa on her plate.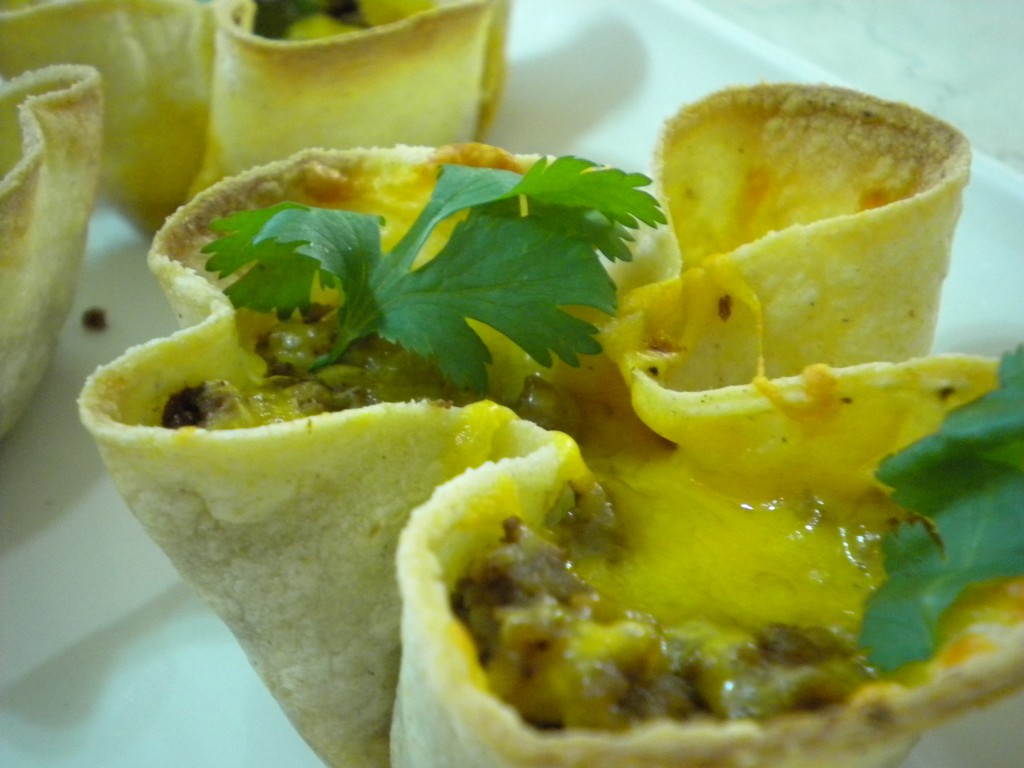 The kids (and the adult guests!) liked finding shapes in their taco cups (much like finding shapes in the clouds).  It certainly made for interesting dinner conversation.
We've got definite plans to make more of these, including the recipes shared below.
Microwave Quinoa Cakes with Maple-Almond Butter
Armed with silicone muffin cups, you can whip up quick, and surprisingly good, whole-grain
breakfast cakes (slash) muffins in the now-ubiquitous microwave. Don't try these with metal
tins! You can cook the quinoa the night before or use leftover cooked quinoa from another
recipe. Take these cakes up a notch by bejeweling them with the creamy maple-almond topping.
Serves 3
Gluten-Free, Vegetarian, Freezes Well
1 medium banana
½ cup cooked white quinoa
2 large eggs
2 tablespoons raisins
2 tablespoons coconut palm sugar or other granulated sugar
½ teaspoon ground cinnamon
¼ teaspoon ground nutmeg
½ teaspoon baking powder
¼ teaspoon almond extract
2 tablespoons unsalted smooth almond butter
2 tablespoons pure maple syrup
In a large bowl, mash the banana. Stir in the quinoa, eggs, raisins, sugar, cinnamon, nutmeg,
baking powder, and almond extract. Divide the batter among 6 medium silicone muffin cups,
filling each about two-thirds full. Microwave on high power until set, about 2½ minutes, rotating
the cups once halfway through cooking if needed. In a small bowl, stir together the almond butter
and maple syrup. Serve the cakes topped with almond-maple butter.
Fish Tacos
Cast your line for this weeknight-friendly, fast, and fun twist on tacos. The smoky yogurt sauce
and tropical mango flavor take them from OK to oh, yeah!
Serves 6
Gluten-Free
6 (5-inch) corn tortillas
grapeseed or canola oil, as needed
1½ cups shredded cabbage or lettuce
¾ pound tilapia or catfish
1 teaspoon ground cumin
½ teaspoon salt
¼ teaspoon pepper
½ teaspoon paprika
grated zest of 1 lime
1 cup cubed mango (about 1 medium)
1 ripe avocado, cubed
â…" cup chopped fresh cilantro
2 green onions, green and white parts, thinly sliced
juice of 1 lime, divided
½ cup plain yogurt, preferably Greekstyle
1 to 2 teaspoons finely chopped canned chipotle chile pepper in adobo sauce
Heat the tortillas one at a time in a dry skillet over medium-high heat until soft and pliable, 15 to
20 seconds per side. Or, stack the tortillas and microwave on high power uncovered until warm
and flexible, about 25 seconds. Brush both sides of the warm tortillas with oil. With the bottom
of a glass, gently press the tortillas into 6 jumbo muffin cups. Don't worry if some of the tortilla
folds inward.
Preheat the oven to 375°F. Divide the cabbage or lettuce among the tortilla cups. Wash the fish
with cold water and pat dry with a paper towel. Slice the fish into 1-inch cubes and place in
a medium bowl. In a small bowl, stir together the cumin, salt, pepper, paprika, and lime zest.
Sprinkle the spice mixture over the fish and toss to coat. Divide the fish among the tortilla cups
and bake until the fish is cooked through, about 15 minutes.
In a small bowl, toss together the mango, avocado, cilantro, green onions, juice of ½ lime, and
salt to taste. In a second small bowl, stir together the yogurt, chipotle chile, and the remaining
lime juice. Serve the fish tacos topped with the mango salsa and a dollop of yogurt sauce.
Raspberry Semifreddo with Pecan Crust
For those of us that don't own an ice cream maker, Italian semifreddo, literally
meaning "partially frozen," is a delicate, ice cream–like creamy treat within grasp. Its wonderful
texture is achieved by incorporating air into the raspberry-cream mixture.
Serves 12
Vegetarian, Freezes well
1 cup graham cracker crumbs (all you have to do is use gluten-free graham crackers crumbs, or gf cookie crumbs, like Pamela's pecan shortbread)
â…" cup pecans, very finely chopped
½ cup pure maple syrup
3 cups fresh or thawed frozen raspberries
¼ cup coconut palm sugar or other granulated sugar
1 teaspoon vanilla extract
1 cup cold whipping cream
shaved dark chocolate, to serve
Line 12 medium muffin cups with paper liners. In a medium bowl, stir together the graham
cracker crumbs, pecans, and maple syrup until everything is moist. Divide the mixture among the
prepared muffin cups and press down to flatten contents.
Combine the raspberries, sugar, and vanilla extract in the bowl of a food processor or blender
container and puree. Pour the puree into a large bowl. Whip the cream in a second large cold
bowl using a cold whisk or electric mixer on medium speed just until soft peaks form. Fold the
cream into the puree using a rubber spatula, working from the bottom of the bowl, until there
are no signs of the cream. Pour the mixture into the muffin cups and level the tops. Cover with
plastic wrap or aluminum foil and freeze until firm, at least 4 hours.
Unmold and place in a zip-top bag for storage in the freezer. When ready to serve, let sit at room
temperature for about 20 minutes to soften, and top with shaved dark chocolate, if desired.