Do you remember those days when you ate spinach or tomato tortillas before going gluten-free?  Have you longed for those days?
Well, I am happy to tell you that Rudi's Gluten-Free Bakery now has flour tortillas.  They come in Plain, Fiesta (red bell pepper, jalapeño, onion and garlic), and Spinach!  Rudi's sent me some tortillas to try (I love happy mail days).  I needed soft tacos today after the not-so-subliminal misunderstood message from Zumba (I swear one of our songs says "soft taco" over and over).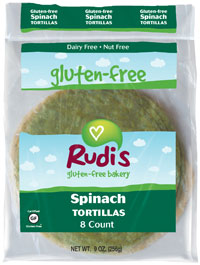 The tortillas are surprisingly thin, but they hold up really well.  Corice was the only one who encountered any breakage in her tortillas, but she's three years old and set it down a few times.

The spinach tortillas are a pretty green and have a faint garlic flavor.  The fiesta tortillas are a light green with a faint veggie flavor.  The flavor is mild enough, in either tortilla, that when other ingredients are added, it doesn't stand out at all.
Martin says they are definitely more flavorful than a standard corn tortilla.  He finished his lunch with those and didn't enjoy it nearly as much.
These tortillas have 5 grams of fiber each, so you don't have to feel guilty about eating them.
Rudi's has also been running its Spread the Bread campaign for the entire month of May for National Celiac Awareness Month.  It's really easy.  Like Rudi's on facebook and choose one celiac/gluten-free organization for Rudi's to give a dollar to, and you'll get a $1 off Rudi's gluten-free coupon.  You get a coupon AND you get to help out a great organization!  Click on the picture to the right to Spread the Bread.
And now, for the giveaway.
Rudi's wants you to celebrate National Celiac Awareness Month, too, so they are giving away one cool prize package to a reader.  It includes a cute apron (I love aprons), Gluten-Free on a Shoestring by Nicole Hunn, Rudi's Gluten-Free coupons, a reusable shopping bag and bread clips.
To enter, leave a comment about National Celiac Awareness Month.  Perhaps tell us about your favorite celiac organization, or your favorite thing to share about awareness.  Leave your comment before 10pm central on June 6, 2012.