It's getting pretty intense around here, trying to get packed and ready to move.  As I had my new graduate student orientation yesterday, I kept think about my biggest fear: not being able to pay attention in class.  It's been a good, long while since I took any sort of class that I really had to pay attention.  I can't even sit through Sunday School, after having 10 years of young children constantly demanding my attention.  But I have managed to sit at the computer for 8 hours straight and build and edit websites, so I'll probably be okay.
I'm pretty excited about summer, with all the upcoming changes.  How about you?  Do you have something to look forward to, or some favorite things to do during the summer?  Perhaps you have some favorite treats you like to make.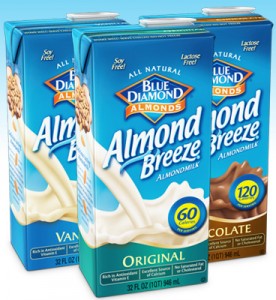 I was sent some Almond Breeze on behalf of Blue Diamond Growers, as well as some recipes for some summer treats.
Almond Breeze is a nondairy milk substitute.  It comes in a shelf-stable carton, ready to drink.
I'm not a milk drinker.  I use it when I bake and on my cereal, but I rarely like to drink a glass.  I found that I like the vanilla Almond Breeze better than milk, and will actually drink a glass of it.  It's a little thicker than skim milk, but it is not heavy, and definitely has a light feel in the mouth.  The almond flavor is not pronounced, but there.  I found it makes my cereal tastier.
The chocolate flavor is not too sweet, like some chocolate milks.  The almond gives it a little twist, and the flavor is somewhere between dark chocolate and Nutella (I know those are two totally different flavors, but imagine a flavor scale).  While packing up big boxes, I've found the chocolate very refreshing, and have had quite a bit of it.
Almond Breeze has natural nutrients of Vitamins A, D, and E.  It's a great substitute for people who are sensitive to dairy or soy, or who just prefer something different.  It comes in Original, Vanilla, and Chocolate.
Try some Almond Breeze alone, or in a favorite recipe, or try one of the following recipes from Blue Diamond Growers.
Strawberry Lemonade
Ingredients
3/4 cup (6 oz.) Unsweetened Vanilla Almond Breeze® Almondmilk 2 cups halved strawberries 1 tsp. lemon zest 3 tbsp. fresh lemon juice 1 packet no-calorie sweetener (such as stevia) or to taste 3 ice cubes
Directions
Blend Almond Breeze with remaining ingredients until smooth. Top with additional strawberries if desired.
Blueberry Peach Chill
Ingredients
1-1/2 cups (12 oz.) Unsweetened Vanilla Almond Breeze® Almondmilk 1 cup frozen, unsweetened blueberries 2 small peaches, pitted and sliced (about 1 cup) 2 ice cubes
Directions
Blend Almond Breeze with remaining ingredients until smooth. Garnish with additional berries or peaches, if desired.