Although healthy oatmeal cookies are great, sometimes you just want a really nice, chewy, sort of decadent oatmeal raisin cookie.  I did some digging, and found some promising ingredient lists, and went from there.  It really doesn't take much effort to convert a cookie recipe to gluten-free, especially when you have one of the many available gluten-free flour mixes that already have xanthan gum.
Today's oatmeal cookie recipe also comes with a baking lesson: not all flours (or flour mixes) are created equal. Â Sure, you can get good results with different flours/mixes, but you can also get DIFFERENT results with different flour mixes.
So, if you've made a recipe and it seemed close but just wasn't quite what you were looking for, simply changing the flour/mix you're using OR changing the amount by just a little bit may make the difference you seek.
The first time I made these cookies, I used Better Batter Flour, which is a somewhat-starchy mix of flours that includes xanthan gum. Â It is Braden-friendly, and it made the most wonderful cookie dough. Â I should know. Â I ate at least 8 cookies worth just from the dough.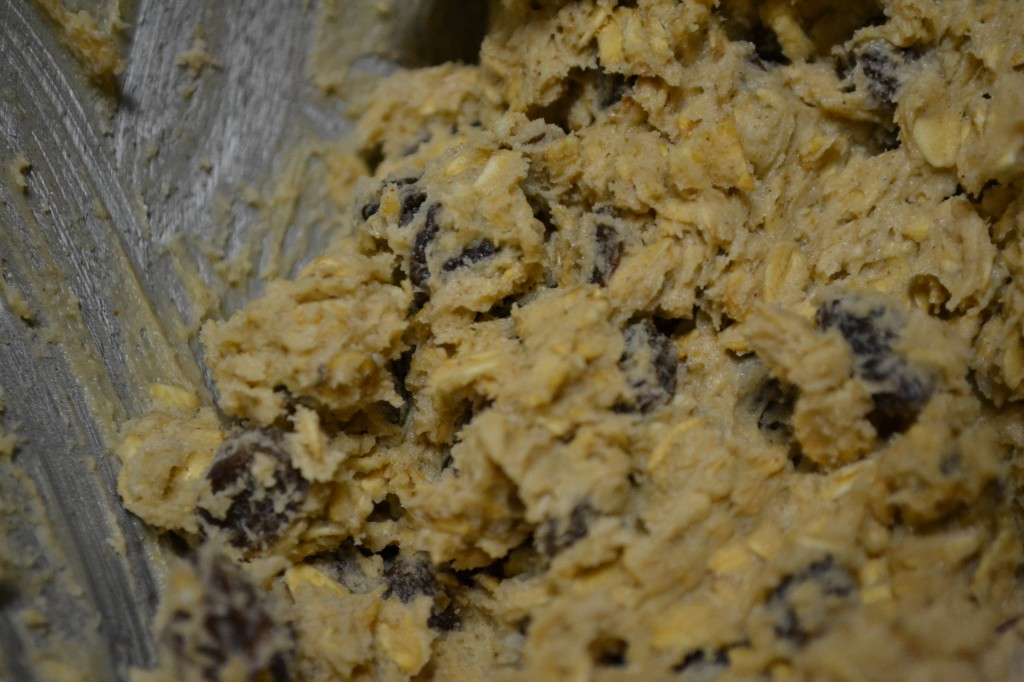 As you can see from the picture, it made thick, slightly chewy cookies. Â These were really tasty, and had the uber-deceptive power of making me believe they were sort of healthy. Â I even shared some with Braden at breakfast the next morning (mostly because I knew they would all be gone shortly thereafter).
A few days later, after the children had left, I decided to make some more oatmeal cookies, because I had a fierce craving for oatmeal butterscotch raisin cookies. Â Oh yeah.
Because the kids were gone and I was making them with the butterscotch chips (I have to get rid of them, after all), which Braden cannot have due to the soy, I decided I would use up the Authentic Foods Pancake & Baking Mix (which has corn in it, another of Braden's allergies). Â I was saved from eating the dough because this also has garbanzo bean (chickpea) flour in it. Â In case you're new to gluten-free baking, I will let you know that you NEVER taste a dough with bean flour in it before you cook it. Â You will want to scrape off your tongue. Just don't do it.
Now, I am a lover of the food scale. Â It is my favorite measuring tool. Â It is much easier and so much more precise, at least when you are measuring the exact same ingredient.
So when my recipe explorations led me to using 1 1/2 cups of flour, which for normal all-purpose flour is about 190 grams, I decided to use 190 grams of flour.
The Authentic Foods mix, having some protein and fat in it, seems to weigh more. Â So, by weighing the same, it was actually less flour…
Which led to the decadence I originally wanted. Â As you can see from this picture, the oatmeal cookies have a greater chewiness, from having a higher butter and sugar to flour ratio. Â They spread out quite a bit more, and were a little oily to the touch, and you KNOW that these cookies are pure dessert (that still didn't stop me from eating one or two for breakfast). Â 
So give this recipe a try with your favorite flour mix if you're looking for that elusive chewy oatmeal cookie. Â If it's too cakey the first time, take away just a little bit of the flour. Â Maybe you'll find a new favorite, too.
Recipe: Chewy Oatmeal Raisin Cookies
Ingredients
1 cup butter (that's 2 sticks!)
1 1/2 cups packed brown sugar (230 grams)
2 eggs
1 teaspoon vanilla
1 1/2 cups gluten-free flour mix (somewhere around 190 grams, dependent on your mix; if your mix doesn't include xanthan gum, try using 3/4 teaspoon xanthan gum)
1 teaspoon baking soda
1 teaspoon cinnamon
1/2 teaspoon salt
3 cups Certified Gluten-Free rolled oats (about 250-300 grams, depending on brand)
2 cups raisins (I like lots of raisins!!)
1 1/2 cups gf butterscotch chips (optional, if you want to be extra-decadent; or chocolate chips)
Instructions
Preheat oven to 350°F. Line cookie sheets with parchment paper.
In the bowl of your mixer, cream butter and brown sugar. Add eggs and vanilla, and beat.
Add the gf flour mix (and xanthan gum, if needed), baking soda, cinnamon, and salt. Mix until well-blended.
Add the oats and mix until fully incorporated.
Add the raisins (and optional chips, if desired). You can either stir these in, with a spoon, so they don't break, or you can be lazy like me and use your mixer (just not for too long).
Scoop teaspoon to tablespoon-sized bits of dough onto the cookie sheet. Beware that they may spread quite a lot.
Bake for 10 to 12 minutes, until the edges are golden brown and the centers appear set.
Allow the cookies to cool on the baking sheet for about 5 minutes before removing to a rack to finish cooling.
Recipe by Delightfully Gluten Free.
Makes approximately 4-5 dozen cookies.