I work in a place of great irony sometimes, especially when it comes to food. Â In our department, the Kinesiology, Health Promotion, and Recreation department, there is no shortage of candy and snacks in the various offices. Â I usually avoid them, though I do give in to my friend's M&Ms addiction every once in awhile.
In my desk, I have quite the bounty of snacks, mostly nuts and fruit, with the occasional gluten-free crackers. Many days, my lunch consists of said snacks. Â It's nice and healthy, sure, but where's the beef (or meat of any kind, or veggies)? Sometimes it's nice to have a hot lunch (even if there are no leftovers from the night before).
Thankfully, the good people at evolfoods.com had sent me some of their evol. bowls to try. Â These are frozen meals, but definitely not what you might expect.
Gone are the days when you eat a few bites and decide your really don't want anymore (think 90s TV dinners). Yuck.
No! Â What we've got here are super tasty meals, ready in three or four minutes, and they are good for you AND the environment.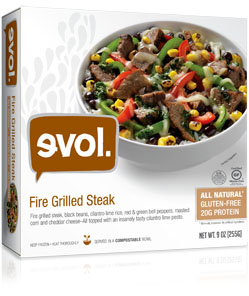 Each of the bowls has around 20 grams of protein and 7 or 8 grams of fiber. Â They are minimally processed and have no artificial ingredients. Â AND they taste like someone made them especially for you, from scratch.
The meats in the bowls are what really amaze me the most. Â Unlike most microwave meals, the meat is actually flavorful! Â It's obvious that their Fire Grilled Steak and the Chicken (from the chicken enchilada) were actually cooked with herbs and spices.
When these meals are warming in the microwave, the smell is intoxicating.  I was definitely drawn to it!  I just loved looking at the meals and seeing all of the spices.  Sure, there's salt in it, but there's more cilantro.  It made my eyes happy, seeing all the little bits of green in the bowls.
When you're done with your tasty meal, take the bowl outside and stick it in your compost pile. Â Save your tummy, save the planet.
Evol has a few gluten-free bowls on the market right now, and it looks like they can be found in quite a few grocery stores and health food stores. Â If you're looking for some new meals to add to your rotation, you just might want to give these a try.