September was Celebrate Organic month, and I totally missed it. Â But we can still celebrate in October and November!
CLIF recently sent me some samples of their Kit's Organic bars. Â 
CLIF Kit's Organic is gluten-free, soy-free and dairy-free
All Kit's Organic bars contain five ingredients or less
CLIF Kit's Organic fruit and nut bars come in four flavors, each with a ¾ serving of organic fruit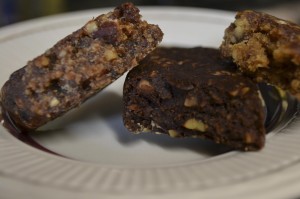 The Peanut Butter bar tastes like a sweetened version of crunchy peanut butter. Â It is dry enough to hold together and hold its shape, but still moist enough to not make you thirsty. Â The Berry Almond bar is bursting with berry goodness and the chocolate almond coconut is like a healthy version of an Almond Joy candy (except it is a cocoa flavor throughout, not a chocolate covering).
These are great, tasty bars that fill you up and keep you healthy (aka, they're not full of junk).
CLIF is offering a giveaway for us! Â Multiple winners will receive a variety package of Kit's Organic bars.
To enter this giveaway, simply leave a comment on this post about your favorite time to eat a fruit and nut bar (for example, I like to eat one between teaching Pilates and Aerobic Dance). Â This giveaway will close at 9pm central on Wednesday, November 6, 2013.