I hope you all had a wonderful Thanksgiving and were able to spend it in a way that pleased you. Â Martin and I stained our floors in the morning, so we took shelter upstairs all day with snack foods and Netflix. Â I probably did not consume enough calories yesterday, but I also just laid around (it evens out). Â If, however, you are like the ninety-something percent of Americans who pigged out endlessly, the fitness instructor in me would like to remind you to go get some exercise this weekend. Â Kung-fu fighting for Black Friday deals is not, in my opinion, an acceptable form of exercise. Â 🙂
Perhaps you really overdid it and you feel like today is a good day for some easy crackers. Â But where to find them..
It's pretty cool to see stores other than your typical grocery stores jump on in and create gluten-free products. Â I recently received some samples of Gold Emblem Baked Rice Crisps from CVS. Â Yes, the pharmacy.
These are not your typical rice crisps or crackers. Â Unlike any other cracker I have seen, these seem to be made of a whole lot of "threads" molded together. Â That's really the only way I can figure to describe them. Â They are not the typical rice cracker that is one solid, smooth wafer.
The Gold Emblem rice crisps come in two flavors, currently: Sea Salt and Barbeque. Â Each bag contains a variety of random shapes (the teacher in me says use this with little kids for a shape lesson!).
The sea salt variety has just a tough of salt and a touch of sweet. Â Braden decided they were dip chips, or good for those not-so-happy-tummy days. Â The barbeque chips have a sweet, smoky flavor.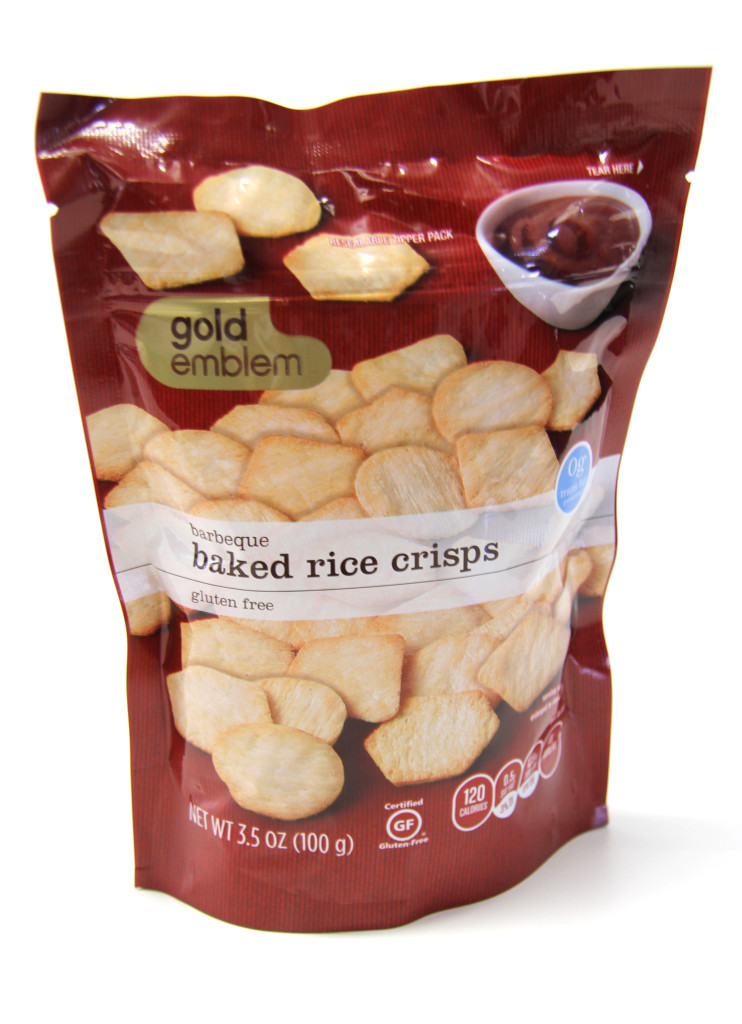 I can't quite wrap my head around describing the texture of these crisps. Â They are very light and airy. Â They feel like something I remember, yet nothing I can think of.
Braden eventually decided we should use these to celebrate the goodness of goat cheese. Â What a great combination!
The Gold Emblem Baked Rice Crisps are certified gluten-free through the Gluten-Free Certification Organization. Â That means that the GFCO tests for gluten in incoming ingredients, final products, and even pulls some off the shelves randomly to test.
They are currently pending approval for a non-GMO certification.
They are low in sodium, have no cholesterol, and are MSG free.
Oh, look! Â I found them in their natural habitat.