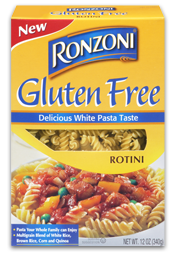 Mainstream companies are feeling the pull of the gluten-free market. Â What does that mean for us? Â More choices on the shelves! Â Less trips to the specialty food stores!
One of those companies is Ronzoni pasta, who recently sent me a sample of their new gluten-free pasta.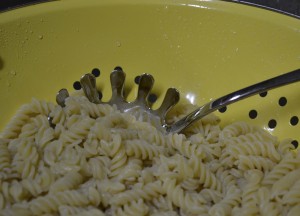 The pasta holds up really well and doesn't fall apart as you're stirring. Â It also cooks evenly, not leaving you with some hard pieces and some mushy.
Martin describes its good flavor as "smooth, not too strong; so if you want to season it, it won't interrupt the flavor."
It is a nice blend of white rice, brown rice, corn, and quinoa flour. Â  It has a good flavor and a great texture.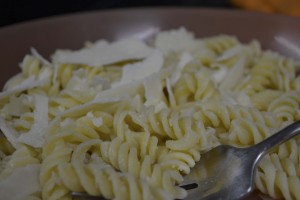 It would make for a great pasta salad to share with friends and neighbors!
Ronzoni's gluten-free pasta is made in a dedicated gluten-free facility.  Give this pasta salad recipe from Ronzoni a try!   It should be pretty easy to find in your local grocery stores, too.  A search on Ronzoni's store finder turned up its gluten-free pasta at Kroger and Wal-Mart stores in my area, as well as a couple of smaller chain stores.
Check out the Ronzoni website. Â They currently have a $1 off coupon.
Southwestern Penne Salad from Ronzoni
Ingredients: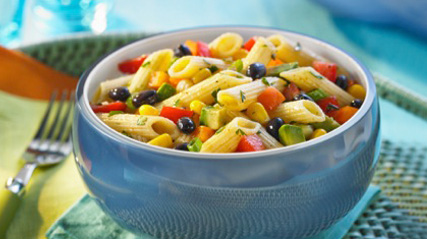 1 pkg Ronzoni Gluten Free™ Penne
1 can (14 oz) black beans, drained and rinsed
1 cup thawed frozen corn
1 each large tomato and orange pepper, diced
3 green onions, sliced
1/2 cup chopped fresh coriander leaves
1/3 cup canola oil
1/4 cup lime juice
1 tbsp honey
1 clove garlic, minced
1 tsp each finely grated lime zest, ground cumin and chili powder
1/2 tsp each salt and pepper
1 avocado, diced (optional)
Cooking Instructions:
1. Cook Ronzoni Gluten Free™ Penne according to package directions. Rinse under cold running water until cool; drain.
2. Toss penne with black beans, corn, tomato, orange pepper, green onions and coriander.
3. Whisk canola oil with lime juice, honey, garlic, cumin, chili powder, lime zest, salt, and pepper until combined. Toss with the penne mixture. Stir in the avocado (if using) just before serving.
Per serving (about 1 cup): 311 calories, 11 g fat, 1 g saturated fat, 0 mg cholesterol, 155 mg sodium, 48 g carbohydrates, 4 g fiber, 4 g sugars, 6 g protein. Excellent source of vitamin C. –