Pumpkin seeds a plenty, pumpkin seeds galore.
We recently received some samples from SuperSeedz. Â I certainly didn't think there would be quite the selection, but there is.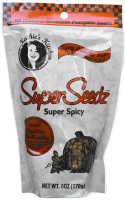 SuperSeedz are dry roasted and shelled pumpkin seeds. Â They are gluten-free as well as peanut- and tree nut-free, vegan, and msg-free.
We first tried the Really Naked, to give us a baseline comparison. Â  "They taste like pumpkin seeds." Â Thank you, Sherlock Braden.
Tomato Italiano, I dub thee "Sir Pizza Seeds." Â Seriously, it's like a tiny crunchy pizza.
"Now, Sea Salt is how it's supposed to be seasoned." Â Well, I guess that means these are Braden's favorites. Â They are pretty great, I must admit. Â Corice has named these her favorite, too.
Oooh, 9 grams of protein per serving. Â Can you say gym snack?
They are also high in fiber, zinc, and Omega 3.
Do you like curry? Â That sort of sweet, fragrant blend of spices that just seems to pop up everywhere. Â Love it! Â I bet these would be great on a salad, adding a crunch and some interesting flavor. Â Mmmm… Â No, wait, Corice has decided Original Curry are her favorite after all. Â ("Can I have some more of the yellow ones?" she asks.) Â Um, she just stole the bag.
Somewhat Spicy would be great on a taco salad! Â It's really not hot, but that spice does linger a bit. Â It's really making me scared to try Super Spicy. Â That might need some lettuce to calm me down. Â Carter, however, manned up and loved on the Super Spicy. Â I think they were Martin's favorite.
There is also Coco Joe, which is a chocolate/coffee flavor. Â I don't do coffee myself, so these will migrate to Monica. Â We like to hook each other up with tasty food. Â 🙂
Sugar & Cinnamon, "they're sweet…more Captain Obvious from Braden." Â I'm glad he's enjoying himself. Â These have a lot more depth to them than I would have originally thought because of the vanilla. Â They only have 2 grams of sugar per serving. Â They aren't a dessert, but kind of like cinnamon toast (if you hold it upside down and shake off much of the sugar – at least, if you add sugar like I might have seen someone else do).
SuperSeedz would like to give you a chance to try them all out, too! Â One winner will receive 8 packs of SuperSeedz (they come in 8 flavors!).
Check out SuperSeedz on Facebook and Twitter, and give them a like or follow. Â Comment on this blog to enter the giveaway. Â Tell me what you think would be the best thing about these (i.e., flavor selection, high protein, etc.). Â This giveaway will close at 9pm central on Friday, March 7, 2014.