Hello Everyone!
As I mentioned last night I will be doing a few Walt Disney World restaurant reviews for Cassandra during the next few days, the first of which being Kouzzina by Cat Cora, who some of you may know as an Iron Chef from Food Network….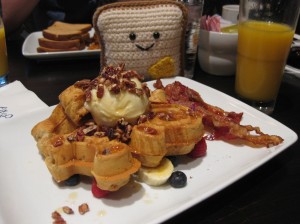 Kouzinna is my personal favorite restaurant at Walt Disney World. Located at the Disney Boardwalk in between Epcott and Hollywood Studios, this is the perfect location where fine dining and family dining meet. Open for both breakfast and dinner, Kouzinna is one of the pricier options at WDW, but to me it was worth the extra money for the exquisite meals.
The breakfast menu was filled with traditional Greek items as well as family favorites (like the most delicious Mickey Waffles on the planet). Out of all the breakfast restaurants at WDW, I felt that Kouzinna had perfected the art of the Mickey Waffle with their marscarpone cheese, honey, maple syrup, and fruit toppings.
Dinner options at Kouzzina are also exceptional. Perfectly prepared lamb and steak, tasting appetizers of fine olive oils and goat cheese to help you understand traditional sensory profiles, it was like a food scientist's dream.
To this date, I have not tried anything at this restaurant that I have not thoroughly enjoyed. If you are a fan of traditional Greek food this is definitely the place for you to try.
The staff and chefs at Kouzzina were excellent with the gluten-free diet. We have always had incredibly understanding and respectful servers as well as chefs while dining at this location and I have never felt concerned about how "clean" my meal will be. Another great aspect of this restaurant is it is not located within a WDW park, thus you do not have to pay the ticket price to make reservations for a meal here. This is one of my all time WDW favorites, and I will definitely be making reservations here while we are in town for the GIG conference.
Thank-you to everyone for putting up with my "not as amazing as Cassandra" blogging skills the past few days! I will be back posting semi-regularly with more Disney restaurant and recipe reviews so keep an eye out! I will be back regularly I promise. To leave you tonight, I have a rare photo of myself dining at Kouzzina last New Years Eve (I am quite camera shy).
I hope everyone is having a lovely week!
Sara