No, I don't have a crush on him, but I know women who do. 🙂
I told you awhile back that we would be auctioning off breakfast with Dr. Fasano at the GIG conference. Well, we did. It was a lot of fun watching (and participating in) the auction. The final bid – $875. Go, Tara!! Just watching her bid (sometimes against herself), was a real treat. She was thoroughly enjoying it, knowing that the money was going for a great cause (gluten-free kids' camps).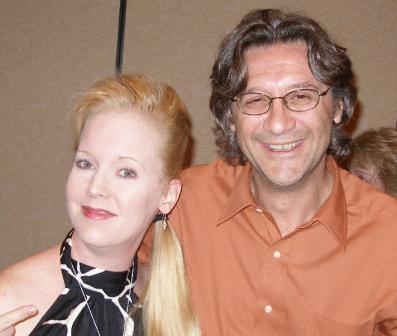 Tara wrote up a little interview, so that she could share her experience with us all. I hope you enjoy it.
Question: You were the grand prize winner of Breakfast with Dr. Fasano at the National GIG Conference in Dallas. What was the most impressive thing in your mind about Dr. Fasano?
In my opinion, the most impressive things about Dr. Fasano are his deep desire to help people and the fact that he is a "real" person, just like you and me. I was amazed by the immediate comfort level when talking with him. He instantly puts you at ease and has the ability to speak on the most complicated of topics in a manner that anyone could understand.
Question: Where did you have breakfast?
Breakfast was in a wonderful suite, chaperoned by Cynthia Kupper. (haha!) We were served a vast assortment of foods including a mix of breakfast breads, fruits, amazing blueberry pancakes, bacon, eggs and some avocado on tomato. Dr. Fasano must not like avocado because he didn't touch it. We were so engrossed in our conversation that I had to remind him to eat!
Question: What did you learn that you did not know about Dr. Fasano?
I learned that Dr. Fasano is a humanitarian first and a scientist second. He relayed some stories about his life experiences and those of his family that left me with a feeling of awe. I knew he was an extremely intelligent man, but I did not know the depth of his caring for the people he is helping. This is a personal mission for him and for that I am truly grateful.
Question: What was the most exciting thing Dr. Fasano told you?
I was excited by everything he told me! In fact, I had to make a conscious effort to contain the dumbfounded star-struck look that kept trying to creep onto my face every time he would reveal some new tidbit of information. I think the most exciting thing I walked away with was the fact that "the pill" is real, is in stage two of testing, and the predicted date to market is 2012 barring any major complications. I also found out that this pill could benefit more people than just celiacs. I think that particular fact would have to be the most exciting of all.
Question: Did you ask Dr. Fasano about any personal health issues?
I only had two hours and there was so much to cover, honestly it never occurred to me to ask him about my health issues.
Question: What do you feel you gained from your time with Dr. Fasano?
I gained a renewed sense of empowerment. I received encouragement that what I, what WE are doing as an organization IS making a difference in the lives of others. I gained the courage to speak out to others and attempt to unite us all for one purpose and one purpose only… a better life for celiacs worldwide.
Celiacs Unite! YeeHaw!