I had this terrible realization the other day, that I had never shared about Corice's first birthday party.  I feel like such a slacker mom (you'd probably think so if you've seen my nearly-abandoned family blog).
Throwing a gluten-free party is not hard.  No one will even miss the gluten.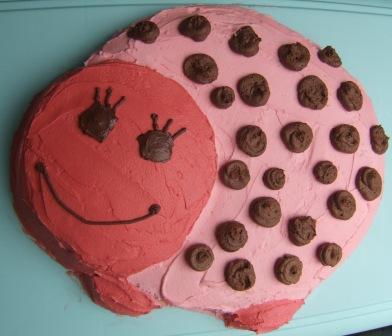 While a cake is generally the standard at a birthday party, it is not necessary.  You could have cupcakes, brownies, cookies, or even an ice cream sundae bar.  If you choose to have a cake or cupcakes, decide if you want a theme and how much time and effort you want to put into decorating.  There are now many bakeries that are creating gluten-free cakes and cupcakes, and you may be closer to one than you think.
Corice's room is decorated with ladybugs, and my sister-in-law found this pan nearly a year ago.  We decided it was a must for the first birthday.  I wanted to do pink and brown, instead of the regular red and black (quite frankly, I don't like trying to make red icing).  I also wanted the icing to be flavored – strawberry and chocolate.  When it came time to make the cake, I just did not have the energy or desire to do the 10 million stars, so what you see is my easy-way-out of decorating.
At your next party, do you want to serve food?  Do you want finger food or a meal?  There are many easy ways to serve gluten-free food at a party (and many that are complicated, too, if that is what you are looking for).  We decided on a nacho bar.  I had pre-cookedand frozen  some ground beef, so when it was party time, all I had to do was defrost the meat and place it in a crockpot with the appropriate seasonings.  A large can of Rico's cheese sauce in another crockpot (and shredded cheddar for my dad, who does not like cheese sauce), a bowl of diced tomatoes, a bowl of shredded lettuce, and a bowl of diced chives, evens out the offerings over some tortilla chips.  It could be a taco bar, too, but I find that nachos can be easier to eat with less mess.
Other serve-yourself-bars could include a potato bar with all the fixings (served in margarita glasses for a fancy touch), or a make-your-own pizza bar.  Prebaked individual-sized crusts and bowls of toppings makes for a fun and tasty activity for children (and adults).
GF taquitos, little smokies, deviled eggs, and fruit and vegetable trays are finger foods that are easy to prepare.  A little more work can give you pigs in a blanket, a tasty treat for anytime.
Don't be afraid when it is time to throw a gluten-free party.  It is a safe and great way to celebrate, and it does not have to be hard.  So don't stress, and have fun.