Shabtai Gourmet Gluten-Free Bakery Wins Best New Kosher for Passover Product at Kosherfest's 2010 New Product Competition
Gluten-Free Yidels Devils Food Mini Chocolate Swiss Roll Wins Best new Passover Product at Kosherfest New Product Competition 2010. Shabtai Gourmet is a dedicated gluten free, dairy free, peanut free, soy free, lactose free, casein free, corn free, and kosher bakery. Shabtai ships his gluten-free sweets across the United States & Puerto Rico.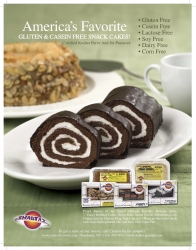 Woodmere, NY, October 19, 2010 –(PR.com)– Shabtai Gourmet Gluten Free Bakery has just won the Kosherfest Best New Passover Product Competition for the 4th time. This time the winning item was their Gluten-Free Yidels Mini Swiss Chocolate Rolls. The judges couldn't stop raving about this new item when they first saw and tasted it – one judge said he devoured the sweet in 1 bite.
The super mini roll concept was developed by Shabtai while making sampler packs for the kosher, organic, and natural food trade shows. This new item from Shabtai Gourmet Gluten Free Bakery is not only gluten free, but also Dairy Free, Peanut Free, Lactose Free, Soy Free, Corn Free, Certified Kosher & is also Certified Kosher for Passover. Retailers are dedicating more shelf space for Gluten Free Foods and allergen free foods sections in their stores. In fact dedicated Gluten Free Food Stores are popping up all over the country, and only carry gluten free products.
In past Years Shabtai Gourmet has won best new product with some of their other items, such as their Gluten Free Devils Food Ring Ting Cupcakes, Gluten Free Bell Ring Cakes, & their unforgettable Marzipan Sushi.
Some other delectable allergen friendly desserts baked by Shabtai are his: Gluten Free Honey Cakes, Gluten Free Rainbow Cookies, Gluten Free Flourless Chocolate Cakes, Gluten Free Jelly Rolls, Gluten Free Brownie Bites, Sponge Loaf Cakes & so much more.
Many of Shabtai's baked goods contain no-hydrogenated oils, no trans fats, no artificial colors, no artificial flavors, no preservatives, are all natural, and baked with organic ingredients.
You can find Shabtai gourmet Gluten-Free baked goods at fine health food stores and supermarkets all year round. You can also purchase Shabtai Gluten-Free items @Â www.shabtai-gourmet.com or @ www.glutenfreemall.com.
You can use their store locator to find the nearest retail location to you at http://shabtai-gourmet.com/?page=locator
Look for Shabtai products at Wegmans, Shoprite, ACME, King Kullen, DAG NYC, Price Chopper, Hy-Vee, Woodmans, Mrs. Greens, Key Food, & Best Yet Markets.
You can also find Shabtai Gluten Free Baked goods in select Bloomingdale's stores on the East Coast.
In the weeks prior & during the passover holidays you can find Shabtai Gourmet baked goods at over 35 Supermarket Chains throughout the country. Look for their Kosher for passover symbols listed on their packaging.
Shabtai Gourmet supports various celiac support groups all over the country. Contact them to get involved in your local gluten free event – www.shabtai-gourmet.com (516) 374-7976.