It seems like everything is rush, rush, rush these days.  Well, that's because it is.
I have decided to go back to grad school and get my master's in Recreation, Events, and Sports Management.  Web development may pay the bills, but it's really not that enjoyable to me.  Besides, I really like to be outside and active, not inside, behind a computer all day.  So I am going back along the lines of my (somewhat) original undergrad plan (I actually ended up with a bachelor's in psychology).
This, and some other things, is making some huge changes in our lives.  It has also required a number of fast meals, as I.  Luckily for me, Kinnikinnick sent me some of their new soft breads to try.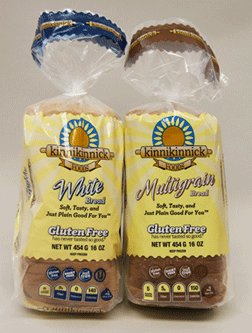 We rarely have bread in the house anymore, so I kind of forget how nice it is to just make a peanut butter and jelly sandwich and call it good.
I did just that a couple of times last week, as I had loads of driving to do.  I started with frozen slices of the breads (I was making multiple sandwiches), spread some peanut butter and jelly or peanut butter and honey between them, zipped them up in a baggie, and went on my way.  A few hours later, they were just perfect.
The bread really is soft, with a good flavor.  "It tastes like bread" was Martin's response.  In my opinion, that's what you want to hear from a gluten eater.
The bread held up well to pb&j, even cutting the sandwich in fourths for Corice.  We're still not quite to the elasticity of gluten breads, but we're getting pretty close.
Hopefully, since Kinnikinnick is one of the "older" gluten-free brands, the new breads will be easier to find.  I suggest you give them a try.
If you want to know more, read the press release:
Kinnikinnick Foods Launches New Soft Bread
Soft, Tasty and Just Plain Good for You™ – It's Time to Toss Your Toaster!
EDMONTON, CANADA, February 21, 2012 – Kinnikinnick Foods, North America's leading manufacturer of gluten free baked goods and snacks, is launching a new lineup of white bread, multigrain bread and bun products with a new soft bread formulation. The new product offers more bread per package, better nutritional values, a lower price point, and vibrant new packaging.
While many gluten free breads are dense and less than palatable, Kinnikinnick's new soft bread is baked fresh and quick frozen, so it is soft and moist once thawed – no toaster required!
The result of nearly a year of research and development, Kinnikinnick's new soft bread formulations were developed to offer consumers the most appealing combination of taste and texture currently available in the gluten free bread category. In addition to being gluten free, Kinnikinnick's new soft bread is also dairy free, nut free and certified OU Kosher, making it ideal for those with special dietary needs.
With a nice rise like traditional bread, Kinnikinnick's new soft bread is made with no artificial preservatives, colors, or flavors; is fortified with five essential nutrients; contains at least five grams of fiber per serving; zero cholesterol; and lower calories making it one of the most nutritionally sound gluten free breads on the market today.
The soft bread line will be available at select natural and mainstream grocery stores throughout the U.S. and Canada this March, as well as for purchase via www.kinnikinnick.com. The line's new compelling package contains 25% more product than other gluten free bread alternatives (16 slices in a loaf compared to 12!), features a gluten free certification logo that indicates the product is tested and contains less than 5ppm of gluten, and highlights a smart phone scan code enabling consumers to immediately access information while in the store. The SRP will be $4.99 for the sliced bread and $4.59 for the hamburger and hot dog buns, comparably less than other gluten free breads on the market.
Kinnikinnick Foods' President and CEO Jerry Bigam shared, "A gluten-intolerant family ourselves, we understand the importance of having allergy-friendly alternatives to foods that are a staple of the mainstream diets we grew up with. We've created this soft bread to offer the fresh taste and soft texture that has made bread such a timeless classic. No toaster is necessary to make it palatable, just thaw and enjoy!"
-more-
Here is some initial feedback from consumers:
"The bread taste so light and fluffy, it almost made me cry, my eyes watered up." – Nancy from Hilo, HI
"We have had sandwiches using this bread, and it was fabulous! I had stopped eating sandwiches much because the bread would dry out so badly. I made these in the morning and ate about noon. The bread did not dry out. It tasted great and had a fabulous texture. My GF-by-choice boyfriend loves it and said, Please get this out in as wide of a distribution as possible." – Susan from Roswell, NM
Kinnikinnick Foods runs the largest, dedicated gluten, dairy and nut free bakery in North America. For more information, please visit www.kinnikinnick.com. You can also find Kinnikinnick on Facebook and Twitter.
###