We have been on a search for chips for Braden. Â There isn't a huge selection of gluten-free chips that are are also corn and soy-free, and without sesame seeds or oil. Â Thankfully, Blue Diamond sent us some of their new Baked Nut Chips, and the Sea Salt variety is Braden-friendly.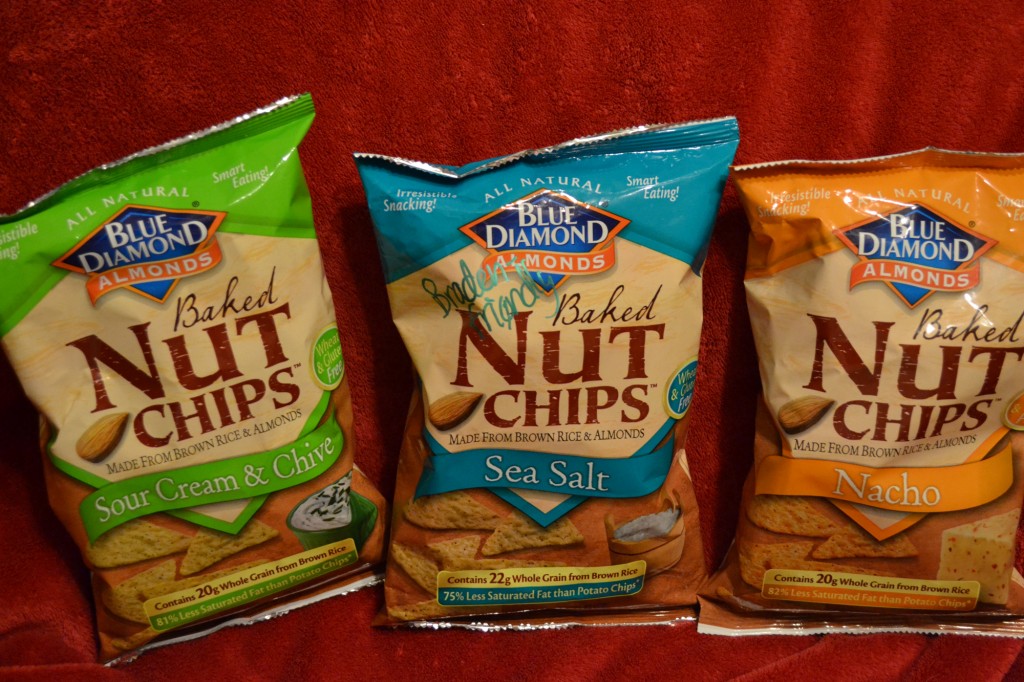 For the Sea Salt variety, Martin said "they remind me of tortilla chips, in that there's not a whole lot of flavor but you can taste the salt."  He thinks they would be good with taco soup, as an edible spoon.
Braden said "I like them. Â They are slightly bland, but they taste good." Â Carter and Corice both thought they tasted good, and Carter really liked tasting the salt.
I found them to have a very slight almond flavor. Â I think they would be great for dipping into a variety of soups, dips, salsa, etc. Â We will need to get another bag and see how they hold up for nachos. Â I think Braden is really missing them.
The Sour Cream & Chives are not Braden-friendly (nor are the Nacho), so he did not get to try them.  I think they have a good flavor, and the chives flavor lingers for a long time (which they should, as that's what chives do).  They're not my favorite, but they were Martin's.  He thinks they taste like a good sour cream & onion-type chip should.  Corice liked them, and Carter said "too bad Braden's allergic to these two bags.  They're good."
The Nacho flavor was my favorite. Â They really taste like nacho cheese, and they are really hard to stop eating. Â  Â Corice liked them, and said they are crunchy and not hard to chew.
Carter wanted to do the first-ever video review on Delightfully Gluten Free. Â  He's 6. Â Enjoy. Â 🙂