It's a two-for-one special here today on reviews, because what goes better with tomato soup than a grilled cheese sandwich?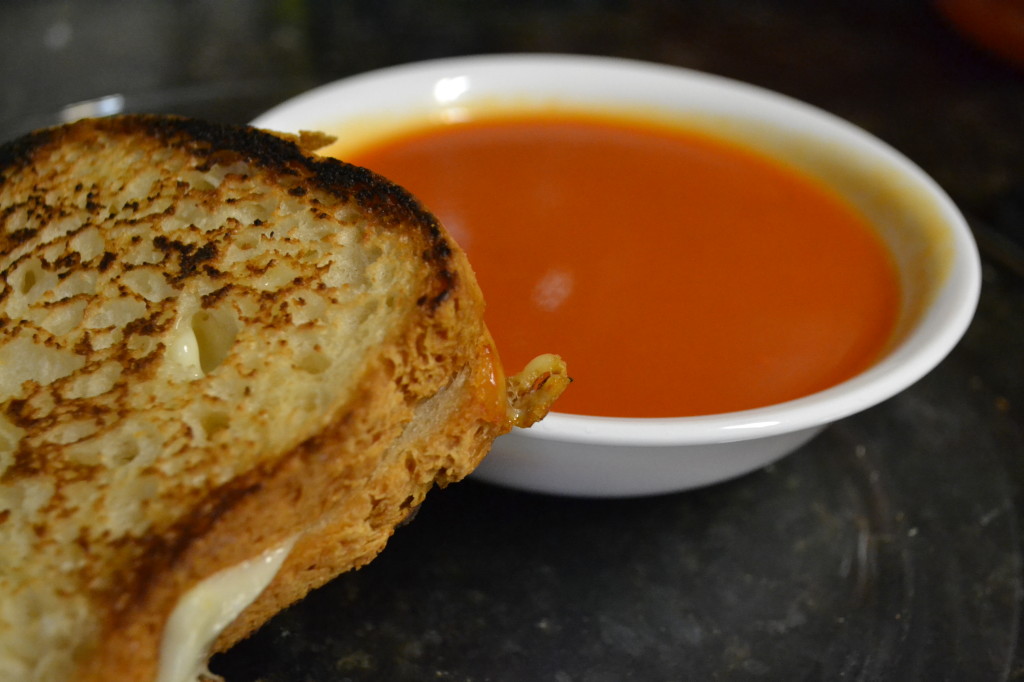 Do you see that? Â It's a gluten-free CONDENSED tomato soup! Â Some of you might not think it's a big deal, but I know some people that will be running-to-the-bathroom-crazy-excited. Â No, really.
I never really knew this because I grew up in a minimalist kind of family, at least when it came to food, but there is a whole population of people who don't know how to cook anything without a can of some kind of condensed soup. Â I clearly remember someone joining our local support group and saying that just about everything her mother taught her to cook involved condensed soup. Â She was so distraught because there were NO condensed gf soups at the time.
A few months ago (yes, that long – I hang my head in shame), I received a sample of this, the first gluten-free condensed tomato soup on the market, from Dei Fratelli.
Corice said "it's really good!" Â It's been a long time (a decade, basically) since I had any of Campbell's soups, but it somewhat tastes like I sort of remember. Â In other words, I have no idea. Â However, it has a great, rich flavor and that smooth sipping goodness that makes you go mmmm.
About a month ago, I received some samples from Three Bakers. Â Usually, I like to try bread products as soon as they come so that I can get an idea of how they react off-the-shelf. Â However, it was a very hot day (over 100 degrees), the box was sitting in the sun, I had no idea how long it had been there, and I barely had time to take care of things before running back out the door to class (47 days to graduation!, but who's counting?). Â So the bread went straight into the freezer (it had been quite warm and I was a bit worried about it).
Upon defrosting, the bread was…bread-like. Â Woot! Â Soft and pliable, not dry or crumbly. Â The Whole Grain White Bread tastes like white bread and holds together really well. Â All I could get from Carter was a "Yum!" as he stuffed his face with his grilled cheese sandwich and tomato soup.
Three Bakers also has a 7 Grain bread for those of you who like to get a little more serious with your bread and even a Rye Style bread if you're missing that special flavor.
Check these guys out and enjoy a nice sandwich and soup lunch with someone you love. 🙂