Ch-ch-ch-chia!
My coworker and I had to do the little Chia Pet ditty before I could start a review on a chia food. Â Do it. Â You know you want to.
Health Warrior recently sent me some samples of their Chia Bars.  These little bars are 100 or 110 calories, certified gluten-free, dairy & soy free, and Vegan.
When you open it up, you see seeds, seeds, and more seeds. Â There are lots of chia seeds! Â They are full of Omega 3 and Omega 6, and have 4 grams dietary fiber, and 3 g protein in each little baby.
I wouldn't have known there were gf oats if I hadn't read the package. Â The chia seeds are definitely the stars of the bar.
Open up an Acai Berry, and you can smell and taste the berry and cashew butter. Â There is plenty of stuff to stick it all together (cashew butter, fruit, etc). Â It tastes good and is easy to eat.
Apple Cinnamon has chunks of dried apples and loads of apple cinnamon flavor. Â The Coconut version sat open on my desk for a few minutes (while I took the above picture and had to go searching for my phone cable), and the aroma tempted and tantalized me. Â The coconut flavor is actually a little understated, though it has a lingering effect.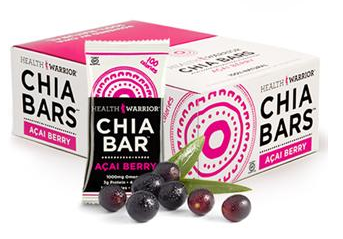 The only bad part is all the time you have to spend sucking the chia seeds out of your teeth. Â Luckily, I had an hour before I taught…
Check out this cool infographic on Chia seeds (which Health Warrior also sells).
"Natural Energy, Powered by Chia" states the package. Â Who's ready to go workout?