A new standard in tortilla wraps has been set.
I recently received some samples from Toufayan Bakeries of their gluten-free wraps (tortillas). Â They come in Original, Garden Vegetable, Savory Tomato, and Spinach.
What is our biggest complaint with gluten-free wraps/tortillas? Â They fall apart, right? Â They can't hold up to the rigors of a burrito. Â Well, no longer is that a problem.
I want to show you this first burrito because of what I did to it.  The first time I tried one of these wraps, I did not warm it at all.  I took it straight out of the box off my front porch.  I was so surprised at how pliable it was!  You'll notice a little tearing in the picture.  My burrito-wrapping skills are not that great, and I must have stuffed that corner in 5 times before I gave up and took the picture (it tore the 5th time).  I always put way too much in the tortilla.
The flavors are all great but not overpowering. Â Each one adds a subtle difference to your food. Â Now, I probably wouldn't put a dessert in the Garden Vegetable (tortilla shown below), but it won't make too much difference which one you use with a taco or burrito (especially if you have spicy meat or salsa).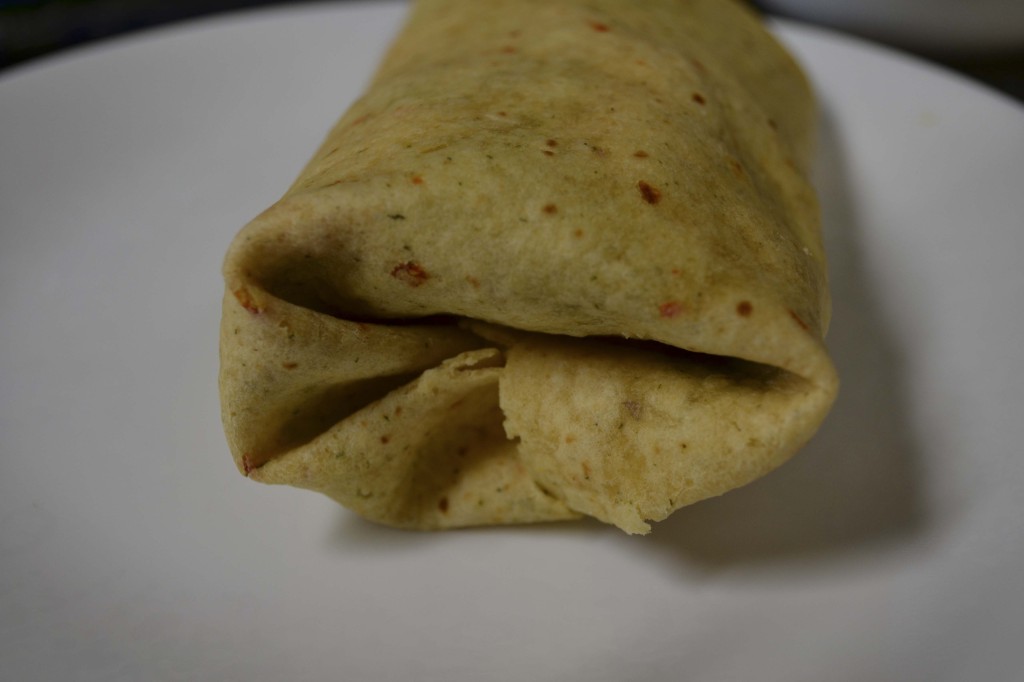 Once they've been in the freezer, all they need is a quick 20 seconds in the microwave and you're good to go. Â They don't get hard, either (unless you've got them in closer to a minute because you're being lazy and don't want to create extra dishes by pre-warming everything else…).
These are hands down the best gluten-free tortillas/wraps I've had yet. Â You will definitely want to give them a try. Â Oh, oh… and they're certified gluten-free so you don't have to worry.
I hope you all had a wonderful Christmas and/or Hanukkah (or Thanksgivukkah!). Â I didn't intend to drop off the internet-planet after graduation, but some de-stressing, cleaning, and loving on my children and husband was definitely in order. Â The Princess and I had quite a bit of baking to do together. Â Now my husband's on me about taking care of the army of reviews waiting on the shelf…
Happy New Year from Master Cassandra (that's me! 🙂 ) and the Smith family.