I started writing this post weeks ago, but wasn't quite ready to "out" myself yet. Â You see, the main reason I haven't done almost any blogging lately is morning sickness…and then getting out of the groove. Â Yes! Â We are excited to announce the impending arrival of child #4 in December. Â Corice is EXTREMELY excited that she is finally getting the sister she's been asking for the last two years. Â Martin is just beaming with pride and excitement all the time. Â Braden and Carter are excited, too, though Carter is a bit bummed he's not getting a baby brother.
So I'm going to try to get back into the groove, though now it will be hard because I have the whole "gestational diabetes" thing hanging over my head again (and I look and eat healthy!).
Thankfully, there are some good foods out there that are not only tasty, but won't make my blood sugar go crazy. Â Garden Lites Veggie Muffins have 5 grams of fiber and 3 grams of protein in each muffin. Â They do still have sugar (11g) and total carbs of 24g, but for a really tasty muffin, these are pretty great.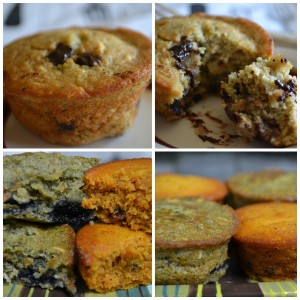 (This is what they look like after sitting in the freezer for 6 months and defrosting and refreezing at least once.)
Though you can't taste the zucchini in the Zucchini Banana Chocolate Chip muffins, you can see a little of it.  These have some oatmeal and a great flavor.  They'd make a great breakfast or snack.  Carter says "it tastes really good!"
Corice is seriously enjoying her blueberry oat muffin! Â "Oh, these are soooo good. Â Mmmm. Â Mmmm. Â Mmmm." Â Man, she doesn't usually make noise like that. Â She likes the blueberries and the little bits of veggies in it. Â "It's very nice." Â Carter likes the squishy blueberries. The oats give an nice chew to the muffin.
Corice thinks the Carrot Berry tastes like carrot cake, while Carter thinks it reminds him more of a pumpkin pie. Â In truth, it's kind of like a cross between the two.
These muffins are all light and fluffy and sometimes a bit extra moist (though that might be because they've been in my freezer for quite a few months, and someone had left the door open a crack one day during the summer). Â They are gluten-free, dairy-free, and nut-free. Â And did I mention they're tasty?