If you will recall, I did a post about spaghetti sauce chicken a few months ago, and said I thought it would be even better in the crockpot. Well, it was. My friends just loved it tonight. This made quite a bit, so I sent some home with them.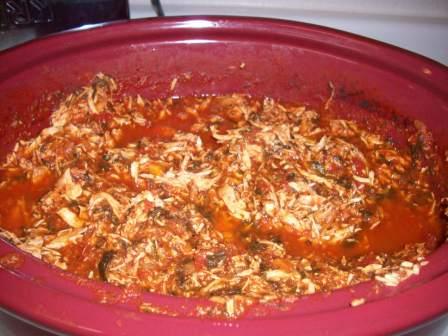 Here is what I did.
In my oval crock pot I placed:
Diced carrots, about a cup
Dried minced onion (maybe 2 or 3 tablespoons)
2 jars light Ragu spaghetti sauce (the no added sugar kind)
1 can diced tomatoes
1 package frozen spinach (thawed)
3 lbs boneless skinless chicken
I placed the chicken on top and then pressed it into the sauce (so it was fully covered, but not on the bottom). I cooked it on low for about 5 1/2 hours (I had actually started it on high for about 30 minutes to get it going). After about 5 hours, the chicken was done and I shredded it with 2 forks (really easy). We could have eaten it then, but our friends weren't here yet. I left it on another half hour, then turned it off and just let it sit.
We served it over rice with a side of green beans and cornbread (recipe from You Won't Believe It's Gluten-Free by Roben Ryberg). This is my absolute favorite cornbread recipe. My friend Julieann, who came for dinner, said it was way better than Boston Market's cornbread, and that was the only kind she had ever been able to eat. "This is divine." Those were her exact words. I only have 3 small pieces left of a 9×13 pan. Her kids would have cleaned it out completely if she had let them, lol. She just has to have that recipe – she doesn't care that she would have to buy xanthan gum to make it (xanthan gum – what's that? she says).
I felt so good to finally make this, to finally get my crockpot out and think ahead, and to finally add all those vegetables I keep saying I'm going to add. It was a wonderful, delicious, and healthy meal, dished up with a healthy serving of great company!