At our GIG meeting 2 weeks ago, we had the privilege to learn from cookbook author Rebecca Reilly.
Rebecca is a classically-trained chef.  Scroll past the recipes to read her bio.
Rebecca was kind enough to share some recipes with us and also allow me to share them with you, too.  Thank you, Rebecca!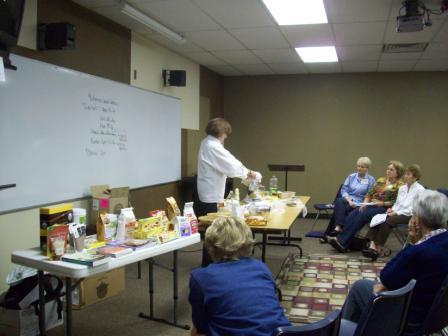 Don't forget to check out our book sale!
Gluten Free Flour Blends
Rebecca Reilly
High Protein Flour (Good for items that need elasticity like wraps or pie crust)
1 1/4 cups bean flour (your favorite blend), chickpea flour or soy flour
1 cup arrowroot starch, cornstarch or potato starch
1 cup tapioca flour
1 cup white rice flour, brown rice or sorghum
High Fiber Blend
1 cup brown rice flour or sorghum flour
½ cup teff flour (preferably light)
½ cup millet flour or Montina® flour
2/3 cup tapioca starch
1/3 cup potato starch, arrowroot or cornstarch
Mix your blends in a large plastic bag and shake until well blended. Keep in freezer or refrigerator.
.
CLASSIC BUTTER PASTRY
with Mesquite Flour
Rebecca Reilly
(Yields: 1 crust)
Ingredients
1 cup high protein blend minus 1 ½ tablespoons
1 ½ tablespoons mesquite flour
2 tablespoons sweet rice
1 teaspoon sugar
¼ teaspoon salt
½ teaspoon xanthan
6 tablespoons cold butter or Earth Balance
1 egg, ¼ cup flax gel or 1 teaspoon agar
1 tablespoon vinegar
Procedure
1. Mix the high protein blend, mesquite flour, sweet rice flour, sugar, salt and xanthan gum together.
2. Using your fingers or a pastry cutter, work the butter into the dry ingredients to form a coarse meal.
3. Make a well in the center and put the egg and vinegar in. Mix together and incorporate the dry ingredients. Gather into a flat cake.
4. If the pastry is too soft to roll refrigerate for 30 minutes or longer.
5. Roll out pastry between 2 pieces cut from a large heavy-duty zip-lock bag and line the pan with the pastry. Trim the edges as for any pie or quiche.
Procedures for pre-baking
1. Preheat the oven to 425 degrees F.
2. Butter an 8-9 inch quiche pan, pie dish or a 9 inch removable bottom tart pan.
3. Bake for 12 minutes in 375 oven on the bottom rack. Cool slightly.
Procedures for baking a pie or quiche without pre-baking the crust
1. Place the filled pie in a 425 degree oven on the bottom rack for 12 minutes.
2. Lower the heat of the oven to 350, raise the pie or quiche to the middle rack and continue baking for another 30 minutes or until done.
.
CHOCOLATE PECAN PIE
Rebecca Reilly
(Yields: 1 pie serving 6-8)
Ingredients
1 recipe pie crust of choice
Filling:
4 ounces dark chocolate (60-72%)
2 tablespoons butter or margarine of choice
3 eggs
1/3 cup sugar
1 cup golden tapioca syrup
¼ teaspoon salt
1 teaspoon vanilla
1 ½ cups lightly toasted chopped pecans
Whole pecans for decoration
Procedure
1. In a double boiler melt chocolate and margarine. Let cool slightly.
2. Beat eggs lightly in medium bowl.
3. Add sugar, corn syrup, chocolate mixture, and vanilla; stir until well blended.
4. Mix in chopped toasted pecans.
5. Pour the filling into the prepared baking pan lined with the crust
6. Carefully arrange the whole pecans halves on the top of the filling.
7. Bake on the bottom rack for 15 minutes
8. Raise the pie to the middle rack, lower the heat to 350 and continue baking for another 30-35 minutes or until done.
.
SANDWICH BREAD
Rebecca Reilly
Makes 1 loaf or 2 baguettes
This bread has a soft texture with a slight yellow color from the yolks and bean flour. Make sandwich bread,* rolls, baguettes, English muffins or focaccia.  Adding the coconut flour will increase the fiber but not alter the taste. Adding 2 tablespoons cornmeal and omitting the powdered milk will give a slightly crisper crust.
*loaf pan size.  If regular bread pan is used, use lightly oiled foil to extend the depth. Kind of like making a collar…top dimensions 4 ¼ X 10.  Bottom dimensions 9 X 3 ½.  Height 3"
2 ¾ cups high protein flour blend without the xanthan and salt
¼ coconut flour
or
3 cups high protein flour blend
¼ cup milk powder of choice
1 tablespoon xanthan
1 teaspoon salt
2 packages of yeast
3 eggs
1 teaspoon cider vinegar
¼ cup melted butter or extra virgin olive oil
1 cup warm water
1 tablespoon honey or agave
Spray the bread pan and lightly dust the bottom with stone ground gluten free cornmeal. Preheat the oven to 375 degrees F.  Put the protein flour blend, coconut flour or just the high protein blend, salt and xanthan gum into the mixing bowl. Use the beater/paddle.   Mix well then add the yeast and blend again.    Whisk eggs, vinegar, melted butter or oil and 1 cup of the water together. Pour into the dry ingredients mixing on medium speed until everything is well blended.  If the batter seems too dry, add 1 tablespoon of water at a time. Beat on medium high for 5 minutes.
Spoon the dough into the prepared pan. Spray the top of the dough with baking spray.  Use the back of a spoon to smooth the top.  Spray a piece of plastic wrap and cover the bread.  Place in a warm, draft-free place for 20-30 minutes or until the dough reaches the top of the pan.  Place in the preheated oven on the middle rack for 35-45 minutes. The bottom should sound hollow when tapped and the internal temperature should read 190-200 degrees F.  Remove from the bread pan and cool on a cooling rack.
Baguettes can be made using a baguette pan, lined with a double thickness of foil with the dull side out, lightly oiled and sprinkled well with gluten free cornmeal.  Make sure the foil is about 3 inches higher than the sides of the pan.  Spoon half the batter into each side.  Using the back of an oiled soup spoon, smooth batter.  Place in a warm, draft free spot, cover with a lightly oiled piece of plastic wrap.  Let the dough rise to the rim of the baguette pan.  Bake for 25 minutes.  Slide the breads out of the pan and let bake on the rack for another 5 minutes. Cool on a rack.
The dough can also be baked as a focaccia or rolls.
.
Dark "Rye" Bread
Rebecca Reilly
Makes 1 loaf
This bread is delicious, sliced, toasted and covered with honey and crunchy peanut butter.
Dry Ingredients:
2 3/4 cups high fiber blend from LivingWithout..***
¼ cup stone ground cornmeal
1 ½ teaspoons salt
1 tablespoon xanthan gum
1 tablespoon Dutch process cocoa
2 tablespoons Cabernet flour
¼ cup brown sugar
2 teaspoons toasted caraway seeds
2 Tablespoon yeast
Liquid Ingredients:
2 eggs
¼ cup molasses
1/ 4 cup olive oil
1 teaspoon cider vinegar
1 1/3 cups warm milk
1. Preheat oven to 375 degrees (350 degrees convection). Lightly grease an bread pan and line and extend the sides by 3 inches with foil, shiny side in. Grease and Sprinkle cornmeal on the bottom.
2.   Put dry ingredients into a mixing bowl. Mix well.
3.   Whisk liquids together, reserving 1/3 of a cup of milk. Slowly pour liquids into dry ingredients and mix together. Add more milk if necessary. Beat on medium high for 5 minutes.
4.   Spoon dough into prepared bread pan. Smooth the top using you finger (oiled) or the back of an oiled spoon. Cover with a lightly greased piece of plastic wrap. Let rise in a warm place until dough reaches top of pan. Usually 20-30 minutes
5.   Place on middle rack in oven and bake for 30 to 35 minutes.   Internal temperature is 190-200… remove from the pan and cool on a rack.
I was out of teff so I made a blend using Montina..Yumm!
…
As a graduate of the renowned Cordon Blue Cooking School of Paris, Rebecca Reilly's professional training also includes certificates from Le Notre Patissier in Plaisir, France.  In addition, Rebecca received a chef's diploma from Madeline Kamman's Modern Gourmet Cooking School in Boston.
Rebecca is the former owner of the Madd Apple Café and Rebecca's Kitchen, a catering firm and cooking school in Portland, Maine.  For ten years, Rebecca was regularly featured as the on-air chef in cooking segments on Maine's NBC affiliate, WCSH News Center 6.  She also hosted the popular television series, New England Kitchen.
Rebecca has been involved with numerous cooking schools and restaurants throughout the Northeast as both chef and consultant.  As a private caterer and nutritional consultant, she has demonstrated her special knack for cooking and her love of sophisticated cuisine while accepting the nutritional challenges of providing nutritious and gluten-free kitchen, tips, techniques, and sources for ingredients, plus a list of resources and information on celiac disease and gluten sensitivity.
After a distinguished career in the culinary field Rebecca Reilly joined the Torte Knox Recreational Cooking School and Culinary Resource library team in Hawley, Pennsylvania, in 2004.  The summer of 2006, Rebecca cooked at the Pine Forest summer camps in Greeley, Pennsylvania. That fall Rebecca began her position at Cambrooke Foods, in Massachusetts, in R&D, creating low protein foods for people with metabolic disorders.  Rebecca also conducts gluten free and vegan gluten free cooking classes at Cambridge School of Culinary Arts as well as being a personal chef for elderly Celiacs and consulting with folks on restricted healing diets.
Rebecca believes strongly that it is possible for mealtimes to please all the senses.  She strives professionally and personally to demonstrate her belief that food is all about "health"—mind –body-soul.