I really enjoyed my trip to Seattle, for the GIG Conference.  Today, I want to share with you about the trip and the city (Conference stuff will come later).
Traveling freaks some people out, and with good reason.  I had a friend get delayed in an airport in another state for over 12 hours once.  That's pretty tough on a Celiac.
Including my day of travel, I had 3 days that I would be gone prior to the conference, and 2 afterward.  I packed a whole bunch of Wonderbars, Lara Bars, and Glutino bars in my backpack (about a dozen combined), along with a bag of Glutino pretzels.  Mom brought along a bag of peanuts, raisins, and chocolate chips (and a bag of not-gluten-free-cereal, which we shall not name, lol).  We left my house at 4:30 am, so we had to have breakfast and lunch with us.
This worked for us.  I ended up sharing some of my bars with Mom, and we got some Planters peanuts on each plane (we had a connecting flight) and some soda.  Had we been stuck and run out of food, it would have been easy to purchase some fruit and a Snickers.  There were also acceptable chips in the vending machine.  It may not be the best meal, but you won't find me starving in an airport.  🙂
When we got to Seattle, we headed downtown.  Mom had decided to come with me when I came home from the conference last year and announced it would be in Seattle.  She has a cousin there, so we decided we would make the most of Andy's time off, and have some  mom and daughter time.  We wandered around downtown, taking in the sights, and headed to Pike Place Market.  It was really interesting to us, because we have absolutely nothing like it around here.  It was past our lunchtime, but we'd had peanuts and Wonderbars, so we decided to get some fruits and veggies from the vendors.  Most of them have some prewashed stuff if you ask.  We got some cherries and snow peas to share, and I had a peach and Mom got an apple.  We were quite content with that as we wandered through the market.  (We're not very high maintenance.)
I did decide that I wanted a Valencia Orange Cake, seeing as we were at the home of Starbucks.  The original Starbucks (at/across from the market) does not carry pastries, so we headed to another one (they are on every other corner there).  We did not make it.
Up ahead, I saw a huge handwritted sign in a window that said "Gluten-Free Cookies."  Of course, we went there.
Cinnamon Works is a little bakery across from the main marketplace.  I grilled the owner, and felt pretty secure.  She did tell me she's not a certified gluten-free place, but, to be honest, I don't know that many places that are (though I always want to see more!).  We had some great cookies (one was pumpkin).  I was a bit worried, later, when a friend had told me that a friend of hers had gotten sick from that place.  I did fine, so, hopefully, it was the other person that was the unlucky one (meaning that hopefully the bakery is usually very good about gf).
That evening, when we headed to the store (to get a razor, because apparently I could razorburn someone to death on the plane), I picked up some small bags of dried fruit (that said gf on the package!) and some peanuts, so that we could wander for hours on end the next day.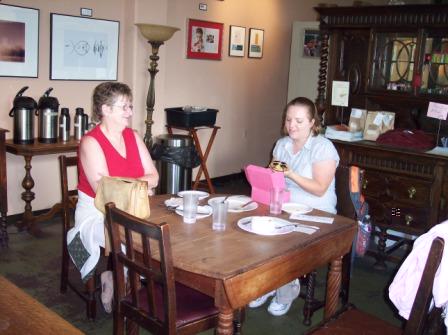 I really wanted to be extremely impressed with our next big adventure, but sadly, the Flying Apron Bakery did not quite get that high.  Don't worry, it was a good, safe place to eat, it just didn't thrill me.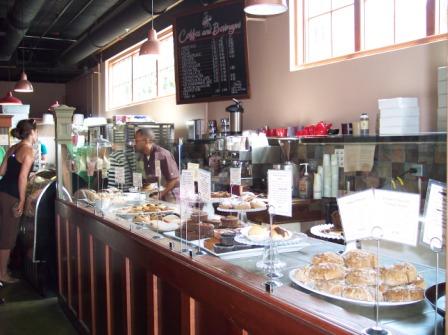 Mom, her cousin Linda, and I shared a pot pie (which I thought was horrid, I'm sorry, but Linda sort of  liked) and an apron pocket.  We liked the apron pocket quite a bit, though, especially Mom.  I guess it was like a calzone, with a tomato sauce and lots of veggies inside.  We tried 3 different desserts, and really liked an apple/pecan cake-thing (it was an exhausting week, and I can't find any mention of it on their site, so I can't tell you what it was actually called).  We did enjoy the place and being able to go out to eat and share with each other.
If you want to see more of my pictures, you can head on over to the album on Facebook.  By the way, if you've been looking for me, you can now find me at facebook.com/DelightfullyGlutenFree.  Just remember to say that you read my blog or something like that – I don't "friend" people if I can't figure out why they want to be my friend.  🙂
More on Seattle and the GIG Conference coming soon!