That's right.  In the words of my cousin Malia, "BC is rockin' it gluten-free."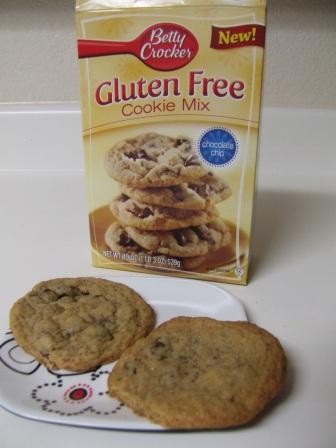 Andy, with great joy, dove into the task of making these cookies last night.  They were pretty simple.
The results?  Overall, pretty good.
Like many (but definitely not all) gluten-free products, these cookies are a bit on the gritty side of life.  I know that grittiness really bothers some people, and others not at all.  I found that in the crispier parts of the cookies, however, the grittiness was not quite as noticeable.
Andy said that other than that, they tasted just like a wheat-based cookie.  He found them to have plenty of chocolate chips, which I actually found surprising because he usually dumps bags of chips in his cookies.  🙂
Today, the cookies had a rich, buttery flavor that I did not taste when they were fresh out of the oven.  This mix makes a good cookie, and if Betty Crocker can get a finer rice flour, then I think it will be excellent.  (And I'm sure a company like Betty Crocker will keep working on it until they think it's perfect.)
Would you like to try out the new Betty Crocker gluten-free cookie mix?  How about all the mixes, a couple of coupons for free mixes, a shopping bag, shopping list pad, and a pen?
Leave a comment before 9 pm central on Friday, July 31st (2009), and tell me what, in your opinion, is the best thing about gluten-free mixes from Betty Crocker.  One of you will be randomly chosen to recieve a prize pack from Betty Crocker Gluten Free Dessert Mixes.
To get you started… For me, the best thing about gluten-free mixes from Betty Crocker is that it means that big companies know we exist, and they are starting to learn that we mean business.
Be on the lookout for more Betty Crocker Gluten Free Dessert Mixes reviews coming soon.