I hope that you are all doing well, and not getting too sick this flu season.  I think I had a bout of it myself last week.  For the most part, it was head related – headache and dizziness, which wasn't too bad when I was allowed to lay in bed and be left alone (which, of course, did not happen all that often).
On the bright side, however, I read a ton.  I have, of late, taken to the 8-12 year old fantasy genre – much cleaner, and often more exciting, than anything written for adults.  Plus, Braden and I can discuss the books.  I was able to read the entire Percy Jackson and the Olympians series, The Mysterious Benedict Society (only the first one), and most of The Sisters Grimm series.  I recommend them all.
But you may have noticed that with my flu, came a lack of my presence online.  I actually got accused of plotting something…
Up for grabs today is a package of fun and nostalgia from Betty Crocker, courtesy of MyBlogSpark.
When Braden was little, I traveled with fruit snacks in my purse constantly.  Those things are addicting, aren't they?  I think it has something to do with the way they squish in your mouth.
As you may have noticed, the Fruit by the Foot makes a fairly good racetrack on a birthday cake.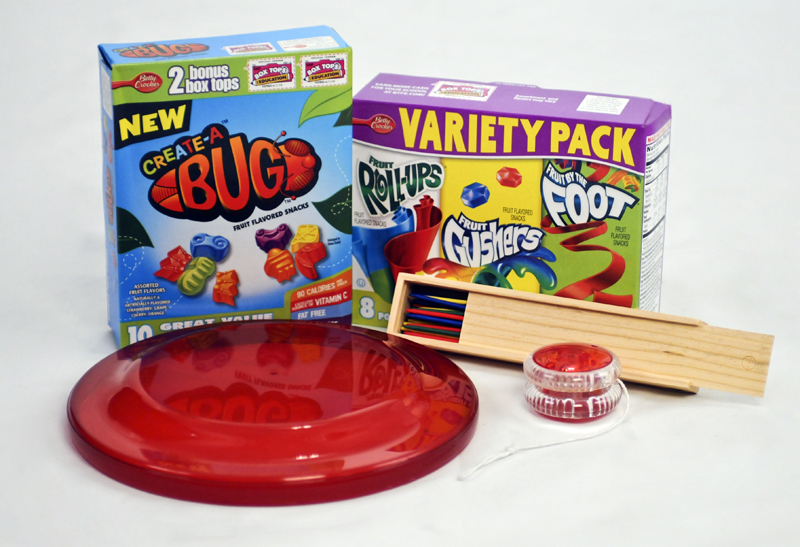 This giveaway features a 2 boxes of Betty Crocker fruit-flavored snacks, a frisbee, a yo-yo (which lights up, I think, though the kids ran off with mine), and a little wooden box of pick-up sticks.
And, bonus!  The Betty Crocker snacks now say GLUTEN-FREE on the package!
To enter, just leave me a comment about your favorite game, toy, or pastime as a child.  As you may have guessed, mine was reading.  Although swimming came in a close second during our 8 months of summer (it sometimes feels like that).
This contest will end at 9:00 pm central on Monday, October 19, 2009.