Last Saturday was my mom's birthday.  With my dad out of town and everyone else doing their own thing, that left my mom to fish around, to see what the children and I would be doing for the day.  I could see where it was headed…
"Mom, would you like to do something with us for your birthday?  What do YOU want to do for your birthday?"
"I want chocolate cake."
And yes, she did very nearly sound like a 5-year old when she said it.  🙂
My mom loves cake.  You wouldn't know it by looking at her, but she does.  In a big way.
So I pulled out my favorite easy chocolate cake recipe, and the kids and I decided to make peanut butter frosting to go with it.  The cake was a hit.  Thankfully, we walked some of it off at the museum.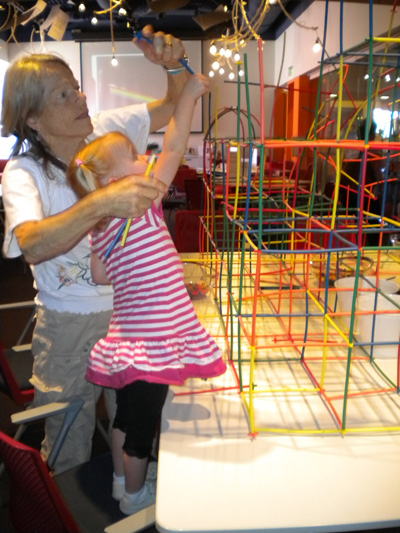 But I ate some for breakfast the next morning.  (Do you see a trend?  Yes, I eat cake for breakfast a lot.)
It was good cake, and I needed it out of my house.  It just so happened that that Sunday was "Pie Night", when a group of us meet at someone's house and get to know each other better, over lots of food.
Enter the cake balls.
I'd brought cake balls before, and they were a hit.  This time, I decided to spruce them up a little bit, after having enjoyed the sea salt caramels so much.  Success!  The sea salt cut the sweetness, but added a new dimension to the flavor.
I liked them so much, I asked Roben Ryberg if I could share her cake and frosting recipes with you, so that you could try them, too.  Of course, she was delighted.
Recipe: Soft Chocolate Cake – Corn-based
Summary: From "You Won't Believe It's Gluten-Free" by Roben Ryberg
Ingredients
3/4 cup oil
1 1/4 cups sugar, 250 grams
3 eggs
2/3 cup milk
1 1/4 cups cornstarch, 155 grams
1/4 cup unsweetened cocoa powder, 20 grams
3/4 teaspoon baking soda
3/4 teaspoon salt
1 3/4 teaspoons vanilla extract
2 1/2 teaspoons xanthan gum
Instructions
Preheat the oven to 350 F. Lightly grease a 9 x 13-inch baking pan.
In a medium-size bowl, mix the oil with the sugar.
Add the eggs. Mix until light and thick. This will take a minute or two with your mixer.
Add the other ingredients. Beat well. The batter will be quite thin.
Pour into the prepared baking pan. Bake for 30 to 40 minutes, until a toothpick inserted in the middle tests cleanly.
Preparation time: 10 minute(s)


Cooking time: 30 minute(s)


Diet (other):
Gluten free


Meal type:

dessert


Recipe brought to you by Delightfully Gluten Free.
When the cake is cool, frost it with this:
Recipe: Traditional Icing, Peanut Butter
Summary: From "You Won't Believe It's Gluten-Free" by Roben Ryberg
Ingredients
4 tablespoons (1/4 cup) butter
1/2 cup peanut butter
1 pound confectioners' sugar
1 teaspoon vanilla extract
5 1/2 – 6 tablespoons milk
Instructions
In a medium-size bowl, combine the butter, peanut butter, sugar, and vanilla. Mix until the butter is in tiny pieces.
Add the milk, 1 tablespoon at a time. Beat at high speed until the undissolved sugar taste is gone, at least 1 minute and up to 3 minutes, depending upon your mixer.
Quick notes:
While I think this icing is great, next time I will tone down the sugar a bit, probably by 2-4 ounces. (I'll need to use less milk, too.)
Preparation time: 5 minute(s)
Diet (other):
Gluten free


Meal type:

dessert


Recipe brought to you by Delightfully Gluten Free.

After you've eaten what portion of the cake you want, turn it into cake balls!
Recipe: Chocolate Peanut Butter Cake Balls with Sea Salt
Ingredients
leftover chocolate cake with peanut butter icing
chocolate almond bark coating
sea salt
Instructions
Using a fork, squish all of the leftover cake and frosting together. Squish it real good.
Cover a tray, plate, or cookie sheet with wax paper.
Pull out a bit of cake, and roll it into a ball. Mine were about an inch in diameter. Set on tray, and continue with the rest of the cake.
If it is hot or humid in your kitchen, or the balls are sticky, place them in the freezer for a little bit. Otherwise, continue.
In a microwave-safe bowl, melt the chocolate almond bark, per directions. I think I ended up using 5 squares for half of a 9×13 cake.
Drop a ball of cake into the chocolate, roll it around, and lift it out with a spoon. Place it back on the tray. Do 5 or 10 of these.
Before the coating hardens, sprinkle with sea salt. I used my sea salt grinder, and didn't get any large deposits of salt.
Finish all of the cake balls.
If needed, place in the refrigerator to cool. Be careful, though, if your kitchen is hot/humid, that your cake balls don't get covered in condensation when removed from the refrigerator.
Share with some friends!
Quick notes:
Kids love to help with this!
Diet (other):

Gluten free
Meal type:

dessert


Recipe by  Delightfully Gluten Free.