In 2005, the Gluten Intolerance Group Annual Education Conference was held in Chicago.  At that time, I had only been a member of the local group for about 9 months, and didn't understand the benefits of going.  When Betty and crew came back from the conference and told some of the best stories, I vowed that nothing would keep me from going to the next year's conference.
Carter was born a year later.
Nothing ever works as planned, huh?
Ever since that Chicago conference, I've wanted to go to a restaurant there called DaLuciano.  "It's amazing" they all said.  "The gluten-free menu is huge."
You see, DaLuciano is an Italian family restaurant.  Out of the 7 children, 4 of them have Celiac Disease.  Not only do they have an extensive gf menu, but they understand and work hard to ensure there is no cross-contact with gluten.
Stacey and I started out with an Italian salad.  The dressing was homemade and herby – very nice.  Shortly after came the garlic bread.  A soft, moist inside was complemented with a thick, crusty outside.  The flavor of the bread was fine, but we thought there was not enough garlic flavor (we're used to very garlicky garlic bread).
We went all out on this meal, as we knew we would not be able to go back.  Fried mozzarella wedges are not something often offered gluten-free, so we just had to try some.  They had a thick, crispy breading with a very slight herb flavor.  On its own, there was not quite enough herbs for my taste. When paired with the excellent marinara, however, the flavor of both together was outstanding.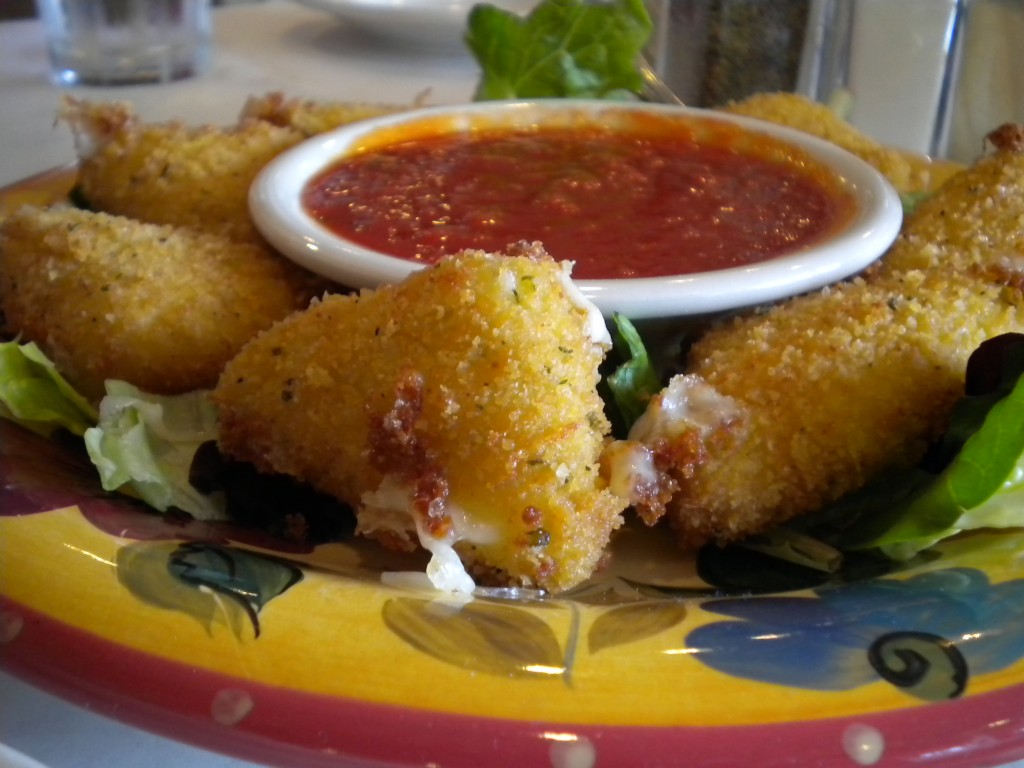 The gluten-free pizzas are small, which was fine for us, since we were sharing quite a bit of food.  Not a thin crust (but not real thick), it was bready with crispy edges, and not a lot of stand-alone flavor.  The very tomatoey sauce gave it the flavor it needed.  If you ever get the chance to try it, we definitely suggest you get some of their sausage…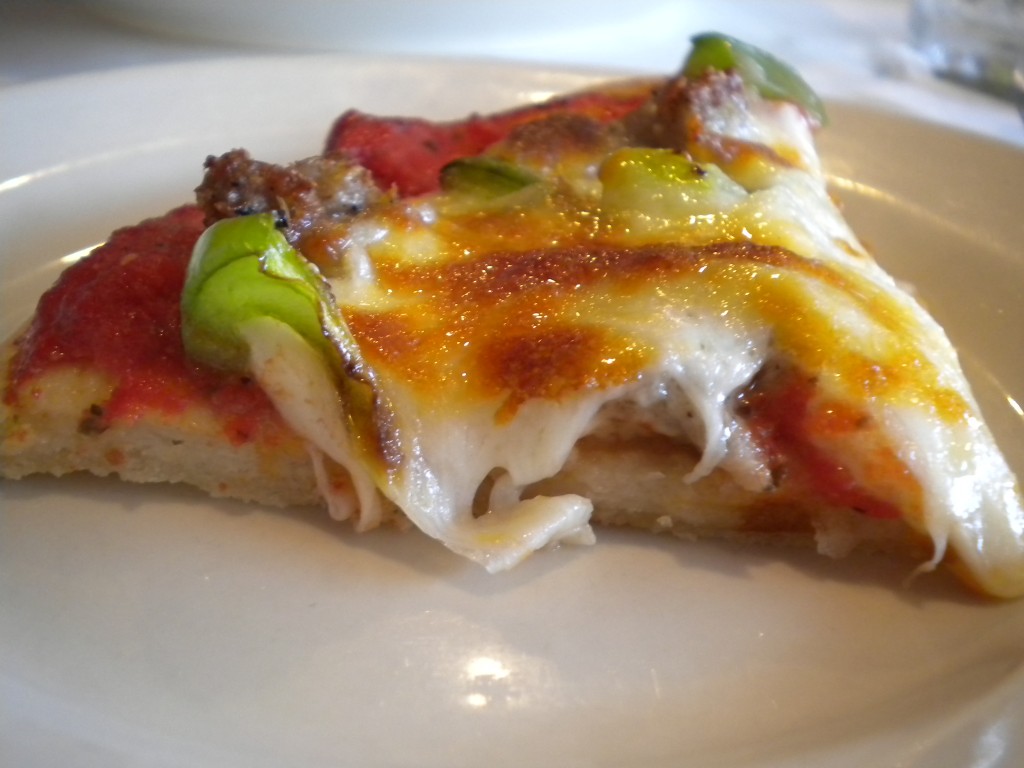 Like in the Pasta Boscaiola.  Excellent flavor!  Oh my goodness, this was one of the best pasta dishes I've ever eaten.  The creamy tomato sauce, the mushrooms (not something I usually like), the slightly sweet and a little spicy sausage, all melded with the chewy (but not gummy) pasta to create the most wonderful aroma and taste sensation.  What a great recommendation, Tim.  It was the highlight of our meal!
Until dessert, that is.
Oh. My. Gosh.
I had never in my life had a cannoli before.  I didn't even know what it was.
But I do now, and I shall never forget.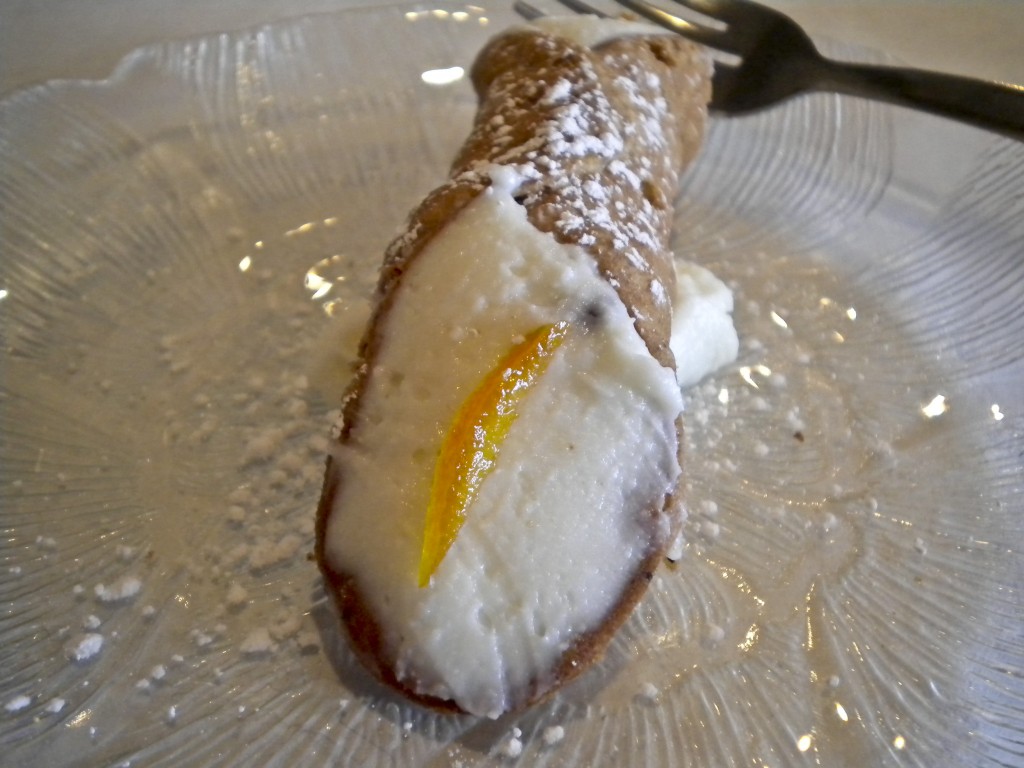 We were greeted by a candied orange peel, the likes of which scored a "fabulous" from Stacey.  Not too sweet and bursting with orange flavor, that tiny little welcoming agent surely deserves a prize.  Of the fantastic cream filling, Stacey said "it almost tastes like custard, but doesn't have that texture."  Me, I just think it was divine.  The pastry shell housing this heavenly treat was hard and crispy (not like rock hard, but a good hard).  I don't even know how to describe the flavor, as it was always covered with the creamy filling.  There was even a hidden surprise – a couple of tiny chocolate chips in the center of each cannoli, just waiting to delight you.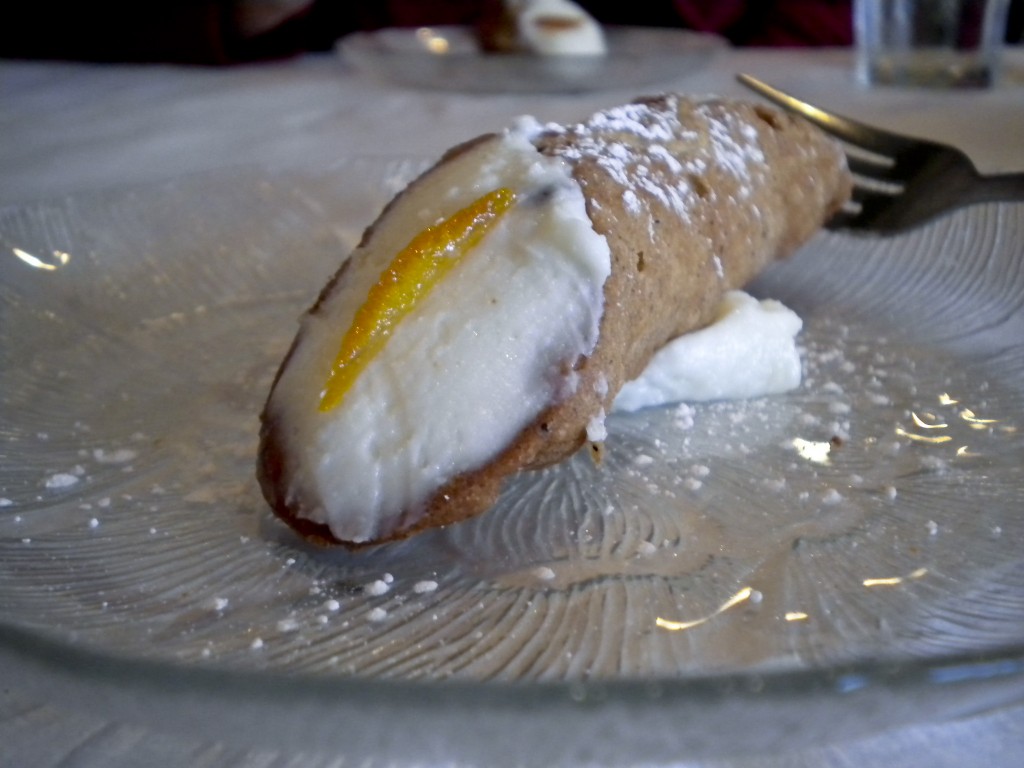 "It was worth the $40 cab ride."  I have to agree with Stacey, those cannolis were worth it!  I suggest, however, that you look into taking the metra instead. :/
The food always came out piping hot.  The owner was delightful, and the place was constantly packed with a line of waiting customers (and we were there a long time).
You can even buy some of DaLuciano's goodies online.  Excellent!
Next time I'm depressed, I'm getting a cannoli shipped to Texas. 🙂