Onion rings.  How long has it been since you've had a nice plate of battered and fried onion rings?
For me, it's been since Roben Ryberg made some for me while she was creating recipes for You Won't Believe It's Gluten-Free.
Until today, that is.
Melissa took me cross-country skiing today.  It was my first time (I have basically no experience skiing.  I'll tell you more about that in another post).  I think I did really well on my child-sized skis.  And no, I'm not kidding.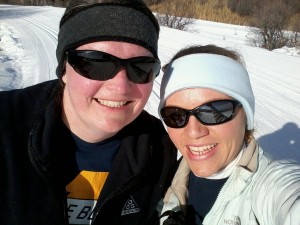 After cross-country skiing for two and a half hours at Soldier Hollow (site of the 2002 Winter Olympics cross-country events), either up or downhill the whole time, we had really built up an appetite.  Thankfully, I had previously heard about a great place in Heber City to get some gluten-free food (even better was that Melissa had remembered me telling her about it months ago).
Spin Cafe is located on Main Street in Heber (which is, in fact, the main street).  When they handed me the gluten-free menu, and I saw "onion rings", I was a little shocked.  As a matter of fact, they do not fry anything in their fryer that is not gluten-free.  It looks like everyone gets the gf onion rings.  But I doubt anyone would care.
They were pretty darn awesome.  The breading was thin, delicate, and crispy, with a nice flavor.  Melissa also found them to be tasty and satisfying.  I really don't think there could be any complaints about these (unless a small puddle of oil disturbs you).
I had a bit of a hard time deciding what kind of burger or sandwich to get, but my stomach eventually made the decision for me.  Three things I love: salmon, bacon, and chipotle.  How could I not get the Seattle BLT?
The gluten-free sandwiches come wrapped in lettuce, or for 95 cents more, you can get it on an Udi's gluten-free roll.  I <3 Udi's, so of course I got the roll.
I've never had salmon and bacon together before, but I think I've definitely found my new favorite way to dress up salmon (I know, it kills the whole "healthy" thing going on).  The Udi's roll was excellent and held up very well with my sandwich.  My only complaint with the whole thing was a little bit of false advertising: the "spicy chipotle mayo" was not spicy.  But, since I'm a Texan visiting Utah, I think I will let it slide.
The fries were also gluten-free, and also excellent.  They're like one of those brain puzzles, too.  It's hard to figure out where one starts and another ends, and how to untangle them.  🙂
If you have room after this feast, I highly suggest getting some gelato.  Almost all of their flavors are gluten-free (just ask!).  I made a little room for some salty caramel and peanuts gelato.  I don't regret the decision (or the crunches, push-ups, and jumping jacks that followed).
As an aside, I saw Michael McLean there (he wrote The Forgotten Carols, my all-time favorite Christmas musical).  If he hadn't been deep in conversation the entire time we were there, we probably would have gone and said hello.  Interestingly enough, Melissa actually went to school with his children.  Small world, huh?
Check out the Spin Cafe:
220 North Main Street
Heber City, Utah  84032